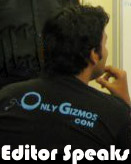 Editorial: The mobile market is buzzing and its attractive enough to pull PC makers to jump into the smartphone race. Some like Apple have lead the way for revolution and others like Google have laid down a strong platform that is open.
Over the past few years, if we have learned something about the smartphone industry, its the fact that specifications don't make a hit. It is the platform and its implementation that plays a major role. That's the reason, the first iPhone sold, the Motorola Droid didn't need a GHz processor and that's the reason that several GHz phones like the Acer Liquid or the Sony Ericsson Xperia X10 are the least recommended Android phones.
And then when you go out talking about exploring Windows Phone 7 after messing up Android for good, I can only laugh at the approach. The Xperia was perhaps the only series dragging Android 1.6 till very recently and then complain of WP7 running the risk of standardizing your products? What are you complaining about? WP7 not allowing you to mess the UI? And Acer now wants to go back to Windows Mobile (WP7) – leaving the PC makers possible ties with Microsoft as a OS maker aside, do you think as a consumer I would stick to you if you are flirting with platforms even before you have a decent lineup of smartphones out there?
Motorola raised some eye brows when we first heard of the huge commitment they were putting behind Android. They have given Google all reasons to back them and provide support. No wonder the Droid was a super hit and we hear of a Motorola tablet with Google's Android blessing in 2011.
To me its clear. If you can't deliver a good product with one good OS, the chances of you doing well with another remains slim. Surprisingly Samsung has managed to pull this off so well. They have a hot selling Galaxy S that runs Android, The Wave S8500 that is Bada OS and has even adopted Windows Phone 7. Not commenting on the multiple OS strategy, its certain that they have what it takes to deliver good smartphones regardless of what the platform is.
If manufacturers don't wake up to this reality, we would only remember you as an also-ran in the market!