Finally the developer tablet is here and the only thing disappointing about it is that, this device will not be running the tablet optimized version of Android, Honeycomb. As we know that the Android developers are very skilled it will take only a few hours for them to port Android 3.0 on this developer tablet once the AOSP is released.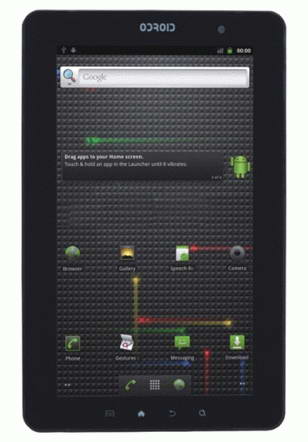 Company called Hard Kernel, which is based in South Korea along with Samsung and LG have developed a Developer specific tablet named ODROID-A. This new tablet comes with a price tag of $749(US)
Well what makes this tablet different from all the others is that it has a transparent back panel and runs the vanilla Android, this tablet will also come along with a debug board.
Specification:
• Samsung Exynos4210 Dual Core ARM Cortex A-9
• 1 GB low power DDR 2 800 mega data rate
• 10.1" 1366×768 TFT with capacitive multi-touch
• Android 2.3 Gingerbread
• Dual Camera
• HSPA +
• 9- Axis sensor
• 9000 mAh battery
This will be the first tablet to have the Exynos processor so the developers will have fun to benchmark and test the exynos processor to full length. Maybe even overclock it and check out samsung's new offering to the processor family.
You can check out the video of this tablet :