A little over two weeks after Android KitKat (version 4.4) made its official arrival, the latest version of Android is already being used on 1.1 per cent of devices that run Android.  This is according to data from Android Developers website that periodically collcts data pertaining to this. This latest data is foe 7 days preceding the week ending December  2, 2013
Android 4.4 was announced on October 31, 2013 and it was soon followed by the official arrival of the new OS.  It has now arrived on select handsets which include the LG Nexus 5, Nexus 4, Acer Nexus 7 and Samsung Nexus 10. Google Play editions of the HTC One and the Samsung Galaxy S4 also got the update. Most other popular handsets including the likes of the Galaxy S4, the Galaxy Note series and the LG G2 are all yet to receive the update. It is then surprising to see that Android 4.4 has already reached 1.1 percent of devices running Android. Here is how other versions of Android fare. As you can see, Jelly Bean is currently the most used version of Android.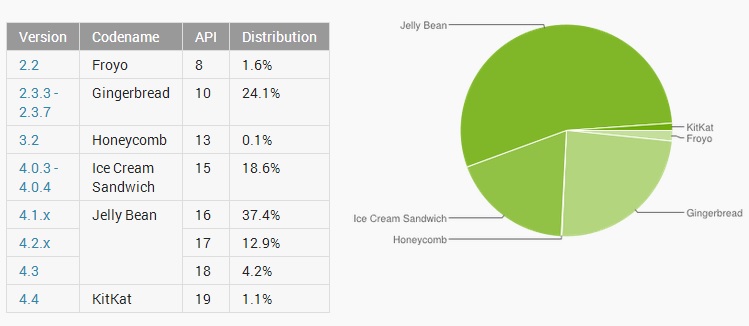 Now, I might as well add that this data is gathered using the updated Play Store app that is supported only on devices running Android 2.2 and above. This app periodically "checks in" to Google servers from where the data regarding a lot of things that include the devices' Android version, display size and other key bits are collated. Note that users don't actually need to visit the Google Play Store to "be counted".
It is expected that KitKat would soon replace JellyBean in the months to come as more and more JellyBean laden handsets upgrade to KitKat.