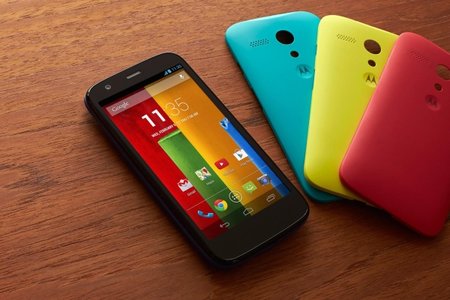 Motorola confirmed that the Android 5.0- Lollipop update has started to roll out for the Moto G (1st and 2nd gen) in India. The company further revealed that the update will be rolled out in phases which means some users can expect to see the update in their notification bar. Alternatively, users can also check if the update is available by heading over to Settings > About phone > System updates.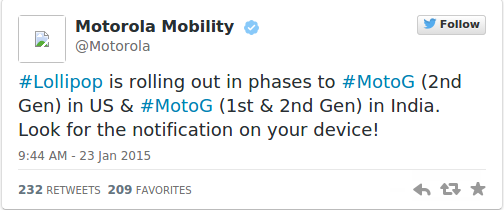 Motorola has also posted the changelog for the update and it includes the new Material Design UI with fluid animations to new application and system themes, colours and widgets, as well as the new notifications UI that will now appear on the lock screen. Other features include Smart Lock; new interruptions and downtime settings redesigned multitasking window; Ambient Display now showing notifications without turning on the full display; new Motorola Assist, and the new flashlight option as part of Quick settings in Lollipop.
The Android 5.0 update is about 350 MB in size so we recommend to download it over a wifi network only. Also, the update will take around 15 minutes to install which makes the phone unusable for that time. So, its best to install it when you are not doing anything important. Also, Android 5.0 has faced teething problems with some users reporting battery issues and other problems with the update. This might make some users delay the update till Google and Motorola iron out the flaws.