Google has released its monthly data where it tells the percentage or breakdown of the OS versions that the currently being used Android phones are using. It is good news, this time around for Android enthusiasts as for the first time it has happened that Android Marshmallow, that is the latest Android OS has racked up double digits in adoption. Android Marshmallow is now running on 10.1% if Android phones, up from 7.5% devices that it was at last month. The way Google calculates the data is by looking at the devices, which have accessed the Google Play Store in 7 days period ending on June 6th.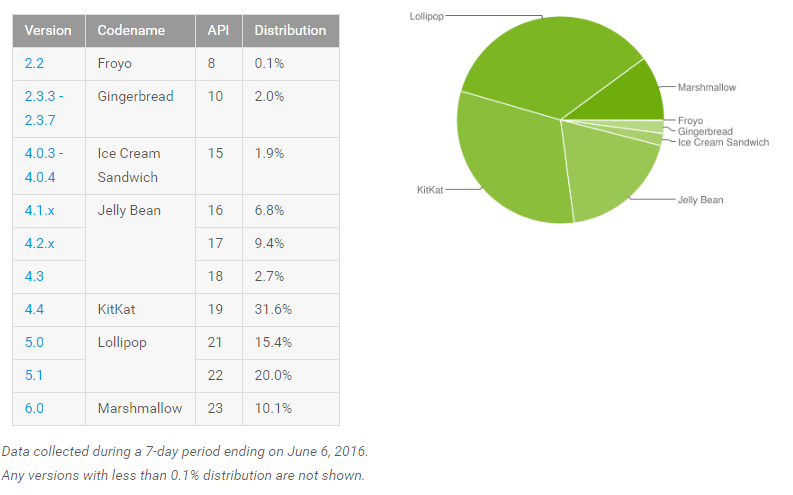 The highest distribution still belongs to Android Lollipop at 35.4%, which is down from 35.6% last month. In the second spot is Android KitKat with 31.6% a really substantial number. This is in line with the fact that there are still phones that are being launched even today with Android KitKat on board, highlighting the part of the problem. There is also Android JellyBean at 18.9%, though that has come down from about 20% distribution percentage.
It is clear from the numbers that there are more Android phones that are running an OS, which is about four years old versus the latest OS and that is something that we expect to improve with more and more OEMs now getting serious about updates. As far as the OpenGL versions go, Google has stated that maximum devices, about 48.6% is still on OpenGL 2.0 while OpenGL 3.0 has 41.8% share. The latest OpenGL 3.1 has seen only 9.6% adoption.