Nokia's Asha Series has just received yet another member with the addition of the Asha 205 to the family. The Asha 205 – along with its cousin the Asha 206 were announced just a few days ago. The phone, the first to sport a dedicated Facebook button On a Nokia is obviously targeted at youngsters and has a bunch of features that will appeal to the young at heart. Let's now delve and see what those are.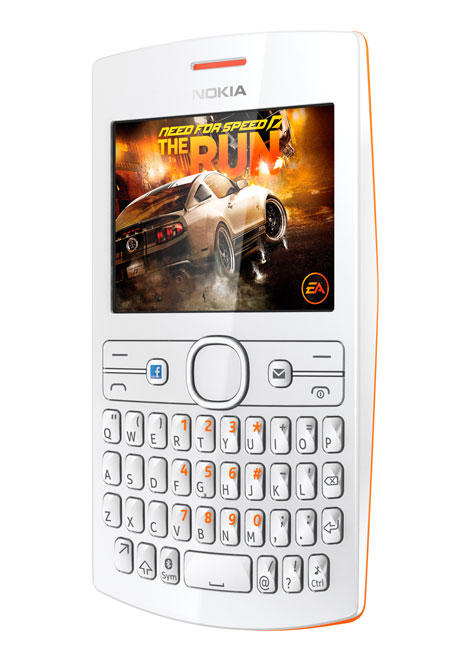 To start with, the Asha 205 features a 2.4 inch display with a resolution of 240×320-pixels. The phone runs Nokia's proprietary S40 UI and is quite similar to other Asha series. As you might have observed from the pictures, it sports a QWERTY keypad which should make typing on the device a breeze.
The Asha 205 sports a VGA camera at the back and gets a very adequate 64 MB of memory internally. There is a MicroSD card slot thrown in as well so that you can increase the memory further. The 1,020mAh battery offers 11hours of talk time and music playback time of 30hours. Like many other phones in its price range, the Asha 205 also possesses dual SIM capability. Note that the phone is not 3G capable and you would have to remain content with 2G and EDGE speeds. And no, there is no Wi-Fi either.
The feature that Nokia is touting the most on this phone is its dedicated Facebook button.
"Young consumers are increasingly using Facebook for communication, socialising and entertaining. The launch of the Nokia Asha 205 responds to this growing demand and gives a unique option for consumers at an affordable price point", Viral Oza, director, marketing, Nokia India, told reporters while announcing the phone yesterday.
Another feature that Nokia is gung ho about is something known as the 'Slam'. This feature will let users to share multimedia content l with nearby friends almost instantly, without the need to pair the phone via Bluetooth. The best part is that the recipient device doesn't have to be "Slam" enabled either.
The Asha 205 has been launched in India with a starter price of Rs. 3499