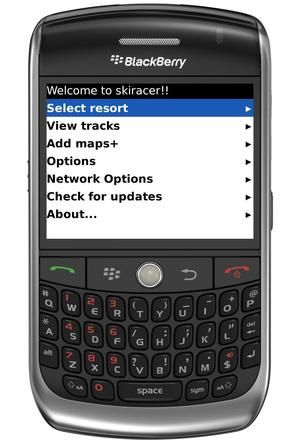 If you are planning to skiing or snowboarding this winter in North America or Europe, then BerrySki is on application that you would love to carry with yourself in your blackberry. The application allows its users to download maps to their blackberry phones and access them offline to plan their adventure trip.
The application allows its users to browse all the skiing and snowboarding locations offline including details about Lodges, restaurant, ticket office, parking, skier drop off areas, lift types, runs etc. The application also supports standard mapping operations like pan, zoom, marked locations, bookmarks, track records to name a few.
Although one can use the application in the offline mode to plan the travel and also to reach the location, the other features related to the actual 'action' would surely need GPS. These features include  your location on the map, live track animations, track analytics track overlay and track summary. The recorded tracks can also be exported in GPX format for future references.
The application is available on a subscription charge of $24.99 for the full service, $9.99 for any five resorts of North America and $4.99 for any one resort. The subscription for European ski resort maps would cost $39.99 for all European maps, $27.99 for subscription to maps of any one country in Europe and $14.99 for a single resort in Europe. The application can be purchased and downloaded from BerrySki homepage.
Do check the demo video see how the application works.