As news about Blackberry's recent buyout has started to break out, Blackberry's developer accounts on the Google Play Store seems to have been removed. This basically means that we might need to temper our expectations with regards to BBM for iOS and Android, though it might be a part of a re-structuring aimed at their enterprise services.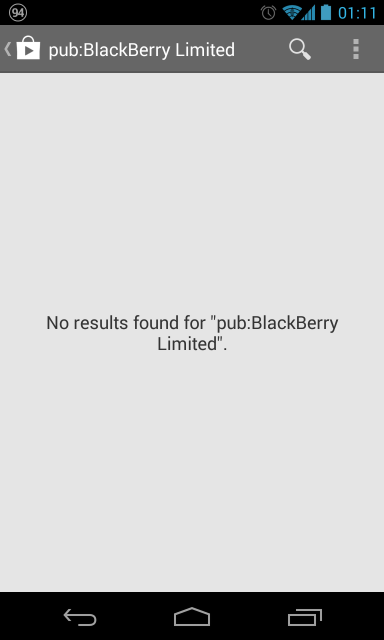 The Blackberry Limited Google Play developer account used to host the BES10 client for Android as well as two other apps. This client was used by enterprise users to sync their Android phones with Blackberry Enterprise Servers. Interestingly, both the account and the app are still live on the iTunes App Store.

The situation is somewhat unclear at this present juncture. It might simply be the part of a temporary purge before they go all out and launch BBM. What this all means is anybody's guess right now.
Thanks to @rajupp for noticing this on Twitter.
Update:
Right after we posted this, there has been an update from BlackBerry on its blog. The blog post clarifies that BBM for Android would not be rolled out this week. This is going to take some time. This means that the BlackBerry Google Play Developer Account should be back soon?
Reproducing the blog post below:
Last week, an unreleased, older version of the BBM for Android app was posted on numerous file sharing sites. We were aware of an issue with this unreleased version of the BBM for Android app. This older version resulted in volumes of data traffic orders of magnitude higher than normal for each active user and impacted the system in abnormal ways. The version we were planning to release on Saturday addressed these issues, however we could not block users of the unreleased version if we went ahead with the launch.
We attempted to address the problems caused by the unreleased version throughout the day on Saturday, but as active users of the unreleased app neared a million – and accelerated – it became clear that the only way to address the issue was to pause the rollout for both Android and iPhone.
The team is now focused on adjusting the system to completely block this unreleased version of the Android app when we go live with the official BBM for Android app. We are also making sure that the system is reinforced to handle this kind of scenario in the future. While this may sound like a simple task – it's not. This will take some time and I do not anticipate launching this week.