BlackBerry's Secusmart and IBM have released a tablet designed on the grounds of Samsung Galaxy Tab S 10.5 . The device is called SecuTablet and is exclusively aimed at the public sector and enterprise sector employees who deal with sensitive and secure data. The device was designed to pass the most stringent government security tests while allowing access to public apps like YouTube. The SecuTablet integrates BlackBerry's BES12 cross-platform solution for enterprise mobility management with Samsung's Knox security features for Galaxy smartphones and tabletsThe OS on the device is still not clear with some reports claiming that it runs on Android based OS.
The device is currently undergoing testing by German Federal Office for Information Security for certification under the German VS-NfD security rating, which applies to classified communications for official use only. The pricing is still not clear but it may start from $2,380 which is 5 times the price of a Samsung Galaxy S 10.5 tablet. At that price, the device clearly targets a niche market of high-end users with the need for better-than-average security.
"The SecuTablet closes a supply gap and opens up for government and administrations an opportunity to derive greater benefit from digitization and the mobile Internet, with system integration as a fundamental success factor" – Stefan Hefter, IBM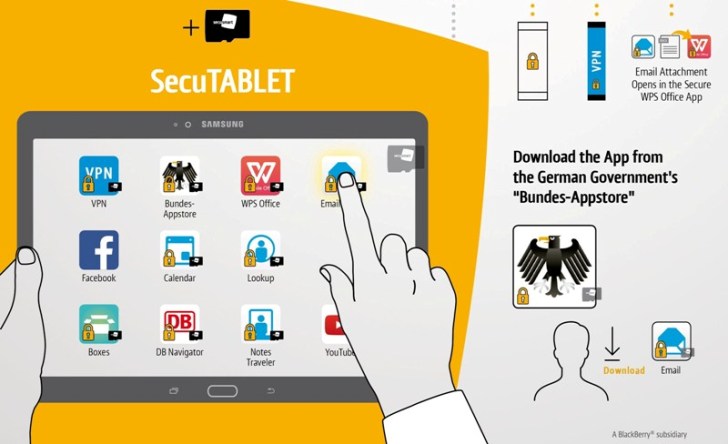 The seeds of this launch had been sown in the previous year, when Blackberry announced a partnership with Samsung to bridge the supply-demand gap for ultra secure mobile devices in most of the public sector industries. As of January, Secusmart reported it had sold its SecuSuite for BlackBerry 10 solutions to around 3,500 customers in Germany over the previous 18 months. More than 10 international governments and agencies also adopted Secusmart's offering during that time.
The need for secure devices has increased greatly in recent years with various hacking attempts and document leaks from government controlled agencies (WikiLeaks!). Private companies like Sony have also faced leakage of sensitive customer information in the past year.