Cyanogen is an open source operating system known for providing exciting features with an amazing user experience. It offers customization to its users and comes preloaded in many devices like Micromax YuYureka, OnePlus One and many more. It can be installed in other devices like Nexus officially. Cyanogen OS12 is based on Android Lollipop whereas the previous version was based on Kitkat. There are quite a few differences between them mainly because of the different Android base. The good thing about CM12 is that it has retained most of the features (not all) of CM11 and at the same time included distinguishing features of Lollipop. It is like getting the best of both worlds.
 The new features of Android 5.0 that have been added are-
Ambient Display: It allows the users to adjust brightness even on auto brightness mode. So if you prefer low screen brightness, the screen will always remain relatively dim. This feature has been in iPhones for quite a few years.
Lockscreen Notifications: You can receive certain notifications on your lock screen itself. This feature is beneficial for those users who make use of action buttons like call or message in case of a missed call notification. Moreover, there is an option to wake your screen in case of a new notification. You can select which notifications are allowed.
Battery Overhaul: Another striking feature of Lollipop is that it helps in optimising battery life. Apart from providing stunning visuals, this version is based on Android RunTime(ART) instead of the native Dalvik RunTime. So it basically stores the app data instead of loading it every time when the application is opened. This helps in saving battery and improving performance.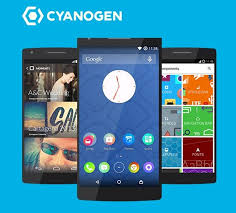 The main features which have been retained and improved as compared to the older cyanogen version are:
Theme Engine– The new and improved theme engine is helpful in customising almost every aspect of the User Interface(UI). It is very useful for people who often get bored of their old visuals and phone appearance. It allows the user to change his theme and thereby provide an enhanced user experience.
Privacy Guard– Privacy Guard is an option that helps in handling permissions for the installed apps on your Android device. You can select which permissions should be allowed for the apps you own. For eg: One can revoke a music app from accessing contacts or emails. This will improve battery performance since the app will not throw unnecessary commands.
Customise Notification Bar– The notification bar has been significantly revamped in Android Lollipop itself. Cyanogen has not tweaked the notification bar much but has retained a few personalisation options which existed on the previous versions like CM11 but one can expect to get more options soon.
Sound Control- This version provides individual volume control for Media, Applications and Phone. This is indeed an advantage since it not found in Stock Android.
Buttons- The software comes with a left-handed mode too, so you can adjust the navigation keys as per your convenience. The button layout can be changed and new buttons can be added for easier usage.
 Bottom Line: CyanogenMod OS12 is at an early stage. It does not have all the features of the older version. But having said that, it doesn't mean that it will not get them. Moreover, one can expect many new super exciting features with the introduction of new APIs in Lollipop. Indian Micromax YuYureka and OnePlus One users will soon get the OTA update.