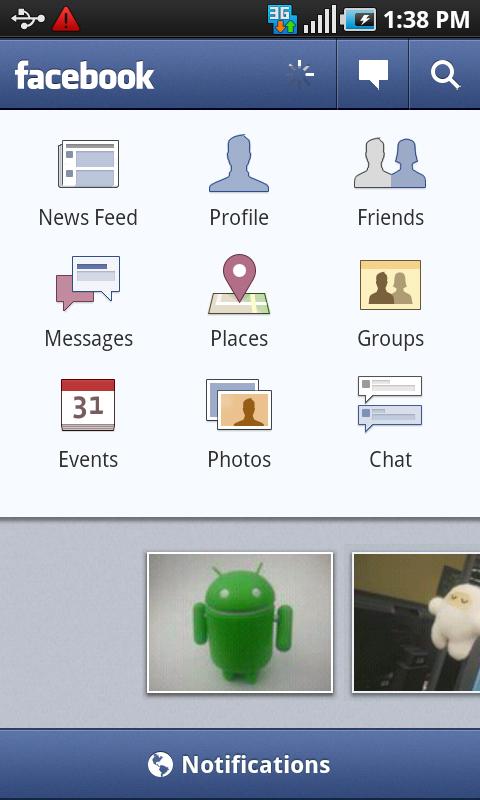 A new version of Facebook is always reason to celebrate for its members. And this time, Zuckerberg's company has finally gone and added some muscle to its Android avatar. The latest version of Facebook for Android, version 1.7, is one of its most significant of late, adding as it does some new features to an app that was beginning to look just a bit jaded, especially when compared with snazzy third-party apps like Friendcaster.
As usual, you can download or update the Facebook app from the Android Market on your handset or tablet. There are no real restrictions – the app will work just ok on all versions of Android above 1.5. The size of the download will vary from device to device – on our HTC Desire HD, it was 3.20 MB. Launching the app does not reveal anything new – it is the same array of icons pointing you in the direction of your News Feed, Profile, Groups, Chat, et al. But beneath that all too familiar interface are some truly handy changes. The most significant of course is the ability to tag friends in your posts and pictures – now when you go to Update Status; you see a button that allows you to tag friends to your posts. It is something that we have been able to do on the iPhone for a while now, so we cannot say we are overwhelmed with joy, but the feature is extremely welcome. The ability to add privacy controls to your posts is a welcome addition too, letting you decide which posts to share with the public in general and with your friends in particular. The profiles and groups pages have been given a makeover and finally seem to look more like their Web counterparts than makeshift small screen versions
There is the normal plethora of fixes too, we are told. Browsing photos by swiping your fingers across the screen does seem to work a lot faster, although we think that is also a function of bandwidth. The overall experience, to be honest, remains by and large the same, although there are claims that the notification system has been spruced up, as well.What we actually did like was the fact that the app seemed to run a lot better on our Honeycomb tablet (the Motorola Xoom) than the previous app did. The screen at least looked a lot less empty.
So does Facebook 1.7 represent a huge step forward for Facebook on Android? We have mixed feelings to be honest. A lot still remains to be done – we still cannot remove posts, for God's sake. We are not sure this will get us off using our browser on the Xoom for accessing Facebook, but we are willing to take it for a spin on the phone. Alongside Friendcaster though. A must-download if you use the official Facebook app on your Android handset. Not quite so must-download if you use something like Friendcaster, though.
Get it from: Android Market
Price: Free