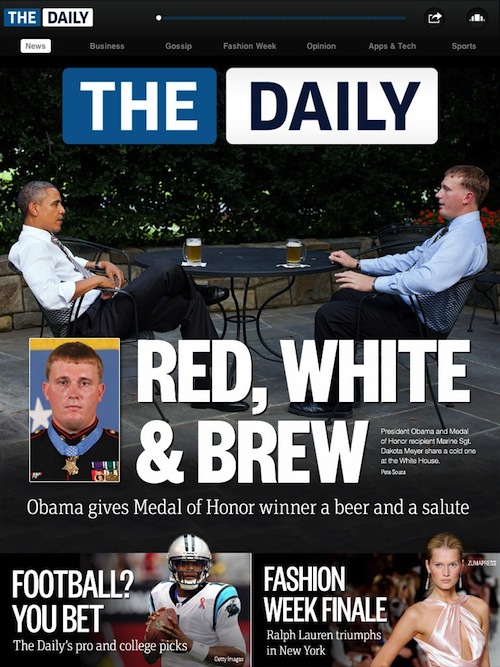 Rupert Murdoch's iPad-only newspaper, The Daily, is finally available for Indian users. And, needless to say, we have grabbed the app and taken a look at it.
For, the uninitiated (where, oh where were you?) The Daily was supposed to herald a new era in news publications, as it was a daily newspaper of sorts that could be accessed only on the iPad. Optimists said it would redefine news reading and kill newspapers, pessimists termed it a Murdoch stunt to be on the iPad. Indian iPad users however, could subscribe to neither opinion as The Daily was just not available to them. Until a few days ago, that is, when it rather quietly made its way into the Indian App Store (as well as the UK one). So we now have a chance to see just how revolutionary this app-paper is.
The Daily is a free download and tips the scales at 37 MB. You will get daily updates free for 14 days and after that will have to decide whether you want to shell out $0.99 for a weekly subscription or $39.99 for an annual one. Mind you, do not expect the app to start working the moment you load it – it will rally around and get the updates first. Which generally are a bit on the significant side. So we would advise patience at the initial stages. Once The Daily has been totally downloaded you can sit back and check out what Mr Murdoch's vision of an iPad-only news publication is.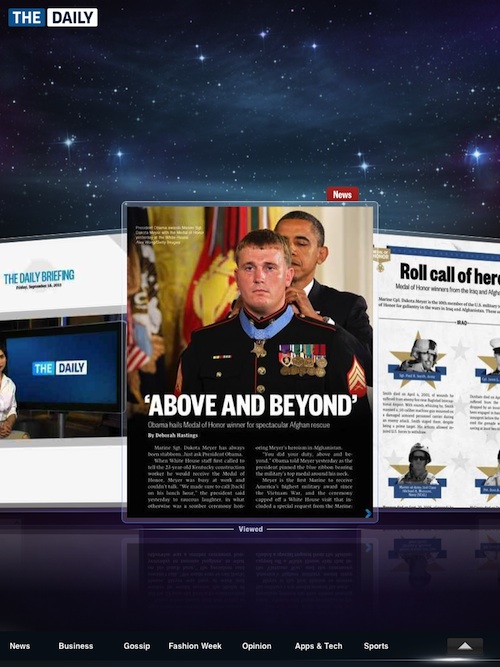 And we must admit that it IS impressive. Yes, we do wish the app responded faster to our touch (there was no way to find out if the story we had tapped would load at times), and yes, the content is overwhelmingly American, but one cannot help but get fascinated by the entire concept. You can browse The Daily in the conventional e-magazine way, flicking away page after page and navigating between the seven sections in which content is placed by sliding your finger across the top of the app, or opt for a slightly more stylized presentation where stories seem to float against the background of a star-laden sky, and you can simply tap the story you wish to read. However, what actually works for The Daily is the way in which video, audio and interactivity have been woven into it, shades of the iPad edition of the much more pricey Wired magazine. Yes, there are over a hundred pages to browse out here, but what marks them out is the fact that they are laden with video clips, and options to add comments (in text and audio) and share what you are reading over Twitter,  Facebook and E-mail. So for instance, if you reading the review of a film, you will also have the option of viewing its trailer, or if there's a story about a particularly brave soldier, there might be a video clip of him explaining what he did in his own words. Heck, we were just delighted to get an interactive ad of the Motorola Droid Bionic.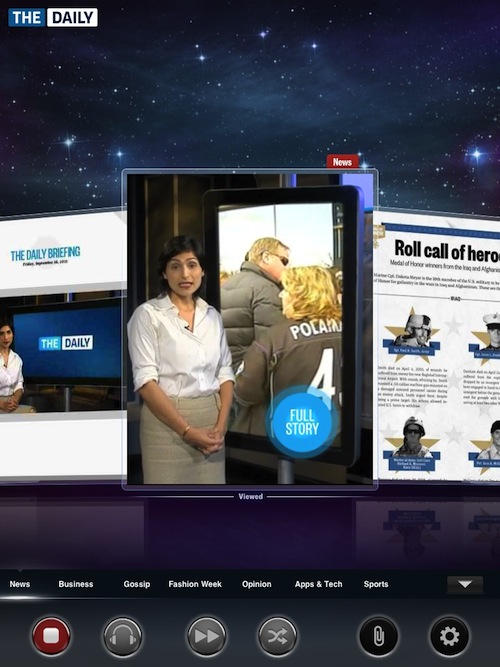 You can opt to hear the entire issue if you wish, view a highlights package of it in video (and even go to the story being discussed by just tapping a part of the screen) and even go and solve the crossword and sudoku puzzles in it. We must admit that we were not exactly enraptured with all the US news and content on the app, but equally we must also confess to being utterly enraptured by the format in which it is presented. With more localised news, this might (might!) just make us give up our morning newspaper, especially as it can serve up breaking news alerts as and when it happens. No, we did not miss the rustle or smell of paper.What we did miss was news from our part of the world. That said, we will be shelling out the $0.99 for the weekly subscription once the 14-day free period runs out. Yes, we think the format is worth it.
Get it from:  iTunes App Store
Price: Free (no subscription needed for 14 days, $0.99 per week hence, or $39.99 for a year)