It's been just a year since the Internet tablet revolution began, and a bunch of companies has already jumped in to the tablet bandwagon. Dell too is no exception, and it has had its Streak Tablet on sale now for quite some time. We knew for sure that the Streak certainly won't be the last of the tablets from the company. What we didn't know however was about some of the weirder tablets that we would be seeing from Dell in the months to come.  We are talking about Dell's new Inspiron Duo laptop-cum-tablet . Yes you heard it right, a laptop cum tablet combo that is set to arrive as soon as next week!
This gadget was first shown off at the Intel Developer Forum held in September which came with a 10- inch display. The screen of this gadget can be pivoted within the bezel of the lid and so that you can use it as a tablet when you do not require the laptop functopnality. Cnet is claiming that the product could be launched by 23rd November.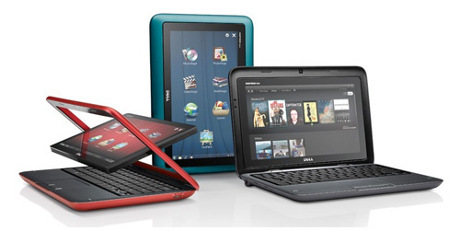 At the demo, the Laplet (yeah, I just coined that term) ran Windows 7 Home Premium, and we do not foresee any changes on that front on the final version.  It uses the Intel Atom N550 processor for number crunching. There is no word yet regarding the pricing of this (beauty?).
Would you want to be caught dead with one of these in your arms?
[Via
Reg Hardware
]