One among the few of our basic needs in our daily life, Social networking has made a huge impact on our lifestyle. Whatsapp,Facebook,Twitter and many more have not only been embraced by the Tech geeks but also the common man and recently Politicians as well!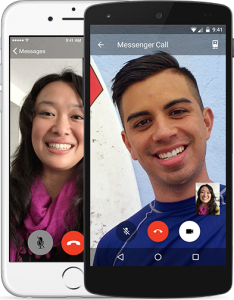 Who doesn't know Facebook in today's world? 8 out of  10 people on an average have a facebook account.  People nowadays are doing things so effectively that it    impacts the society at large! Truly amazing isn't it!
While there is a race between all the social networking    platforms to provide as many features and facilities to the customers, the ultimate beneficiary is the    end user! Apparently, Facebook is leaving no stone unturned to make its Messenger chat platform reach to as many users as possible.
Video Calling lately has been dominated by giants like Skype. While Skype does not provide any other features of socializing as Facebook, Facebook has now introduced video calling feature in its popular messenger app.
Messenger app is claimed to be giving competition to various instant messaging apps like Whatsapp, Hike, WeChat to name a few. However, Whatsapp remains the favorite instant messaging app among the masses.
Users will now be able to make video calls using Facebook Messenger app .The Messenger app will get a video icon at the top right corner of the chat screen, post the new update. Messenger's video call feature is advertised to be easy to use but does have one requirement that is not immediately obvious. Both caller and recipient must actually be both using the mobile app in order for the feature to work. Other than that though, video calling is available to all, whether they be on Android or iOS. As long as they have the updated versions of the apps, of course.
Messenger had more than 600 million monthly active users at the end of March.
Messenger app also provides features like sending photos and videos instantly, sending stickers,voice notes and group chats.
It will not be wrong to say that Facebook has joined in bit late. But only time will tell how this will work out for Facebook