It is old news that Letsbuy was acquired by Flipkart. I would believe that, that transaction / transition went smoothly. However I was pleasantly surprised today when I received a promotional email from Foodpanda (Rocket Internet backed online food ordering service) in my personal gmail inbox, I never signed up for the service! Promotional emails from enterprising internet sites In India is nothing new. As much as I expect everyone to follow a clean no-spammy approach like Cleartrip (yes, I still love them for a few things, despite my recent horrendous experience), this is the reality we deal with: Mass Emailing = More Business.
Coming back to FoodPanda's email today, well as it seems they have licensed or bought database / tied-up with Letsbuy (now Flipkart?) to send out these promotional emailers. Shortly after I received this emailer, Instamojo's rockstar @sengupta emailed me with an interesting email. Here is what he wrote: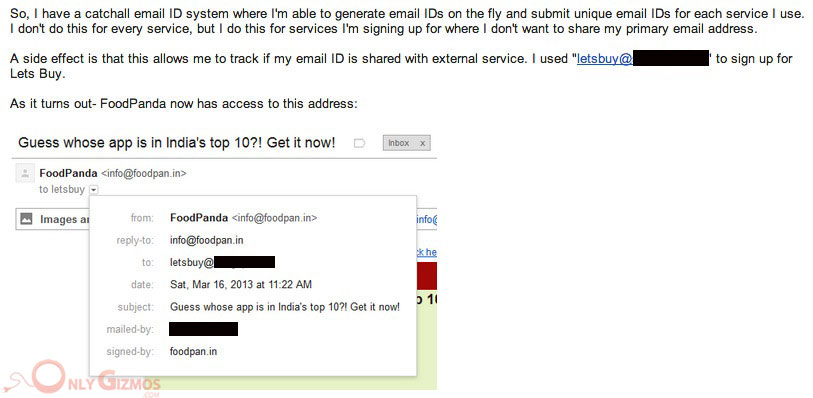 Being the techie he is, Aditya Sengupta seems to have good tracking of what service provider is spamming him / selling his email id. The email id on which he received the email from Foodpanda was used by him to register on Letsbuy!
Now, it can certainly be a case that Letsbuy's T&C covered this and the email received by Sengupta is totally legal / right use of his user profile. But I am super skeptical of what happened here. Certainly not a good practice. May get business from masses, lost trust from me.
I have more reasons to believe that this emailer is spammy in nature. The emailer itself has a "Report Spam" option on the top, very unusual. It seems that it is trying to divert attraction from the Spam button provided by the email service provider (in our case Gmail). A smart internet marketeers attempt indeed!

Another small observation, the email is sent by foodpan.in and not foodpanda.in (though both look same on first look). Foodpan.in currently redirects to foodpanda.in though!
Special thanks to @sengupta for keeping such vigil and sharing the insight with us. 
Annkur P Agarwal is a contributing editor with OnlyGizmos