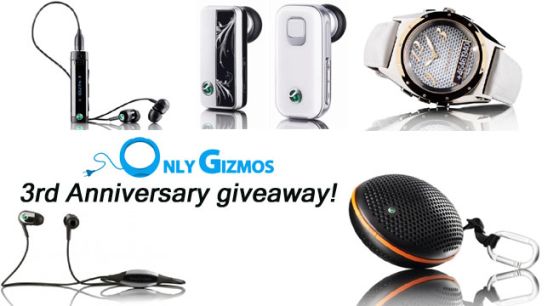 We are back with a mega giveaway and on offer this time is the Sony Ericsson MW600, Bluetooth Watch MBW 200, Bluetooth speakers MS500, HBH PV715 Bluetooth headset and MH907 motion sensing earphones. Yes thats a whole lot of bluetooth goodies for you to cheer about. So how do I win these?
Guess we would keep this really simple for you. You can participate in this giveaway by two means. Just answer the two simple questions below by:

1. Commenting on this post
2. Leaving a comment on the Facebook thread. [Link] (Gizmo hugs for suggesting our Facebook page to your friends)
Dont forget to use the hashtag '#SEAccessoriesPrize'  with your answer
The questions:
1.  What are the three different editions of the MBW-150 watch? (mention any one)

2. What's the slogan for the MBW 150 Exec Edition?
(Click here to search the answers 🙂 )
There are different set of gadgets from the above list for the blog and Facebook. So participate at both places to maximize your chances of winning.
Rules:
1. One person can participate only once
2. Though the gadgets are fresh, it was only used by us for review.
3. Winners shall be chosen randomly via random.org, contest is open for the next 7 days . We shall announce here once the contest is over.
4. If you are a winner and in India – shipping would be free. For outside India shipping, we would sadly have to charge you the shipping cost 🙁
Update: A couple of Quick updates. a) The ever wonderful, Queen of Twitter – @netra would run the randomizer to pick the winners and b) Did you know that the bluetooth watch we are giving is a Ladies special?
You can follow OnlyGizmos on Twitter / Facebook or subscribe by RSS or EMAIL