So, just hours after the announcement of the Ice Cream Sandwich laden Galaxy Nexus, Google's servers seem to be acting up and from what we have been observing Gmail is either working very slow or has stopped working entirely for many users. Nah, we are not implying that that these two events are connected in anyway.

In my case, it is stuck at a display page that tells me that there is a server error. I looked at the Google Apps page where until now all services were listed as fine – although that page  itself took quite a while to load. As the norm is Twitter is replete with tweets from people who have been affected by the "outage".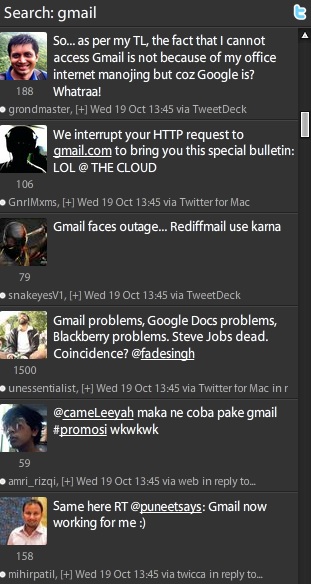 Other services like Reader, Search are working fine for me – although some users have reported that Google Docs is down for them. Another service that seems to be down is the Android Market which I am unable to access for the Motorola Xoom. It is stuck at the "Loading" screen. (and just as I typed that, it returned)
This is a developing story and as of now there has been no official word about this 'outage'. It is unclear if it is even an outage at this point of time. Also, since I typed this post, Gmail has started to work fine as well.
Will someone from Google tell us whats happening?
Gmail Faces Outage; Returns Just as Quickly as it went Down