There have not been too many games in the past which have generated the kind of hype and uproar that Pokemon Go has. The game is barely out of Beta, in fact available to download only in select few countries and it has become a firm favorite. In fact, such has been the hurrah around the game that the team behind it have had to halt the rollout because of server issues. Looks like you cannot catch them all, after all.
However, if you are one of the lucky few for whom the game is working perfectly fine, you may want to chat out or speak to those like you especially if they can guide you to locations where they found their Pokemon. Sadly the game itself does not have a functionality for the trainers to talk among themselves, but a chat app for the Pokemon Go users is now live on Google Play. Currently, the app allows for trainers to post about the location, where they found Pokemon, gyms and more, and users can then leave messages or comments on that. You will obviously see these messages based on your location, so if there is an active player using the app in your vicinity you can get talking.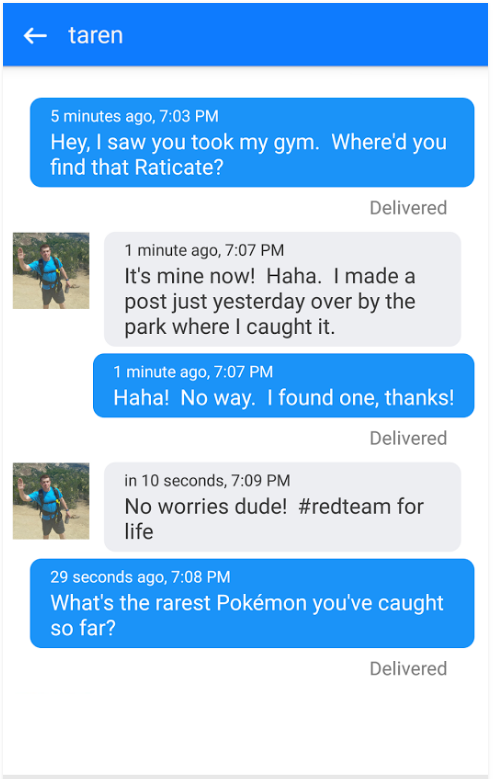 The application is available for absolutely free on the Google Play Store, though there is a word of caution for Samsung Galaxy S6 users. So, if you own a Galaxy S6 or the S6 Edge and want to try the application out, you may want to install the latest monthly update before using the app, without which, it may not work. The developer has left this bit of advice in the app description on the Play Store stating that, "THE GALAXY S6 HAS AN ERROR THAT CONFLICTS WITH OUR APP THAT IS FIXED IN THE NEWEST ANDROID VERSION UPDATE FOR YOUR PHONE".
You can download the application here.
H/T: Android Central