Want to create an app for android without coding, but still did not received invitation from Google App inventor? Try an alternative visual application designer that allows you to make Android Apps without any coding.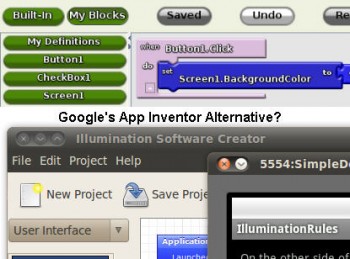 For those of you who do not know, Google released App Inventor for Android which allows users to develop Android Apps the easy way using visual tools. Users are not required to know the code but can design an application using simple drag and drop visual block to create their own application. The sad part is that it not released to public yet and is only available via invitation.
This post talks about another visual designer which allows you to code Android Apps without any coding knowledge required. The name of this application is Illumination Software Creator; the program is a shareware and allows users to build apps 100% visual way. Recently with the version 2.1 the support for Android is added. Other than Android, users can build apps for other platforms such as Windows, Linux, MacOS X, Flash websites and Maemo applications.
Since this is the first release which actually allows Android app building capabilities, please do not expect it to be a fully established App creator. I worked on it for a couple of hours and easily created some very basic apps without a single line of code. Though it lacks advance options that Google App Inventor talks about but I believe something is better than nothing. So while you are waiting for Google App Inventor invitations, go to Illumination Software Creator's website and give it a try.