One of the reasons I love almost every Google product out there was the basic principle of simplicity they followed in designing them. The simplicity of design that they kickstarted with their search engine seemed to have been implemented across most of its services – including Gmail, Google Maps and Gtalk. I recall how back in 2008, when they released Google Chrome, I was immediately hooked on to it. Reason? Simplicity again. I am sure there are many others too out there who subscribe to this view.
Earlier today, Google released its much talked about cross platform messaging client called Google Hangouts. Immediately after getting back home from a friend's place, the first thing I did was to download the all new application on to my phone and hoped to experience the usual Google awesomeness. What happened after that however was quite contrary to my lofty expectations.
Let me warn you. Google Hangouts is as confusing as anything can be and I will tell you why. Before that, let me list some of the reasons why Google says you should be using Hangouts. I won't elaborate them – but would rather list them in bullet points as the features are quite self explanatory.
 Support for photos and emoji.
 See when people are together in Hangouts, when they're typing, or whether they've seen your message.
 Turn any conversation into a video call with up to 10 friends.
 Message friends anytime, even if they're not connected right now.
 Use Hangouts on computers, Android and Apple devices.
.. and so on..
Awesome!! With Gtalk (which is replaced by Hangouts if you install it on your phone), almost none of this was possible except maybe that it supported some emoticons and offline messages were delivered once your recipient came back online. So why am I still crying foul over hangouts? Well here we go.
To start with, on the mobile version of the application, you have no freaking clue as to who is actually online at any given moment. Take a look at the screenshot below. These are what Google thinks is my most contacted people and I have no idea whether they are online right now! That is seriously lame!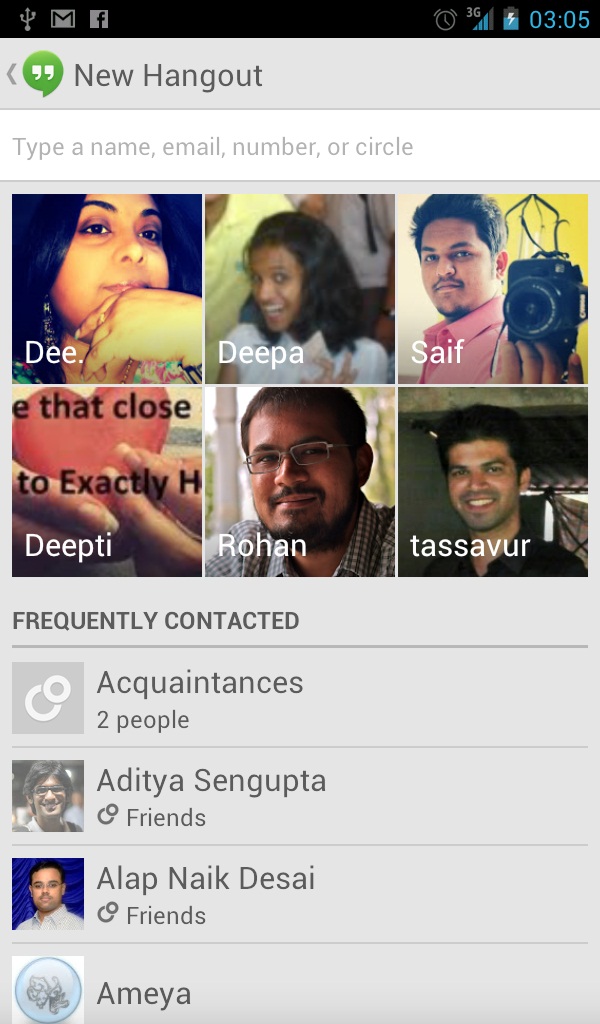 This is a messaging app for heaven's sake! What is the point of a messaging app when you would either require to call the person up or message him/her to check whether they are online so that I can 'hangout' with them! Of course, you have the simpler option to check Gtalk on your computer- if you have it installled.
As for the app, all it shows is this list of people which it thinks are the people I frequently contact. Thats OK until I try to chat with one of them. Hangout, right from the outset seems to have been designed as a group chat/video call client. So, when I click on any of my friends name, instead of opening a chat window, it actually  registers the click as a tick mark. (since Google believes, I am gonna hangout with more people anyway and tick more names!) Of course you can select just one person and then again click the "message" button and start talking to him/her. This entire process is so unintuitive, I simply cannot fathom Google could have designed it. The usual norm is to talk to one person and then maybe if required, we add more people to that "hangout". Google seems to have implemented this idea upside down with the priority being more on group chats than on one on ones. (Pun intended).
There are loads of other issues as well. You cannot set your status as invisible if you are online and hanging out. Some tablets doesn't seem to be supported. There is no support for SMS – a feature that I do not really care about but many others do, the utterly confusing friends list (you will find some of them grayed out for reasons I have no clue about). I tried to make a video call to a friend who was offline and instead of telling me that the contact is offline, it went through the video call with all the sounds and tones. Oh and lest we forget, you need to have a Google+ account to use Hangouts.
In all, Google Hangout – at least in its mobile avatar has been an utter disaster for me. I am already planning to downgrade back to good ol' Gtalk and would rather stick to WhatsApp and Gtalk for my messaging needs.
Sorry Google, but you missed the bus with this one! And how!?