Google Play along with the launch of various other applications and updates has now started a new section as the host of its first 'Free App of the Week' promotion. Google Play isn't the first one to offer such a promotion though a good response is expected. Similar offers have always been given by Apple's App Store and Amazon's App-store for the Android version.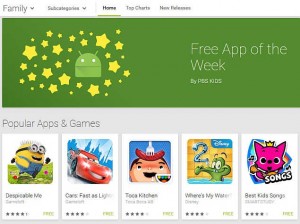 After the launch of its Family section last week, the first Free App of the Week is 'Daniel Tiger Grr-ific Feelings' by PBS Kids. It's actual cost is Rs 190.28 i.e $2.99. The application is highlighted for free in the (new) Family section both on the Google Play app as well as the Web interface. If users try to directly search on the store via the application or the Web it will be directed to the full-price listing.
It's the first time Google will be allowing developers to price an application for free for a limited time. Till date, once an application is made for free, developers cannot make it a paid app again. They are only allowed to do it if they remove the listing and republished it again.
Currently the media is calling the Free Application Of The Week as a part of Google Play Content Promotion. It is typically meant for the third party publishers along with entailing the use of promotional codes. Though the code and its input mechanism is invisible in the case of 'Daniel Tiger Grr-ific Feelings'. The services have the condition that such promotional codes cannot be transferred to other users. It cannot be exchanged for cash and neither has any cash value.
For now, Google has not given out any details about about this update. It hasn't revealed if the "Free App of the Week" will be a part of Google Play's section.
Though in the meanwhile, Google has already started posting the user feedback surveys in the Google Play application. This was reported by a Reddit user. The Google Reward Opinions however doesn't pay users in form of Google Play credit for answering the survey. The survey is there simply to know how satisfied the user was with the Google Play Store's search results.
Also See: Google Aims At Increasing Standby Time With Android M.