Google has finally sent out press invites for the 29th of October which could see the launch of the much rumored Nexus devices.
Though, the invitation doesn't give any indication as to what can be launched at the event, we expect it to be the much rumored LG Nexus 4 which has seen multiple leaks in the last few days. Sony's version of the Nexus is also another rumored device.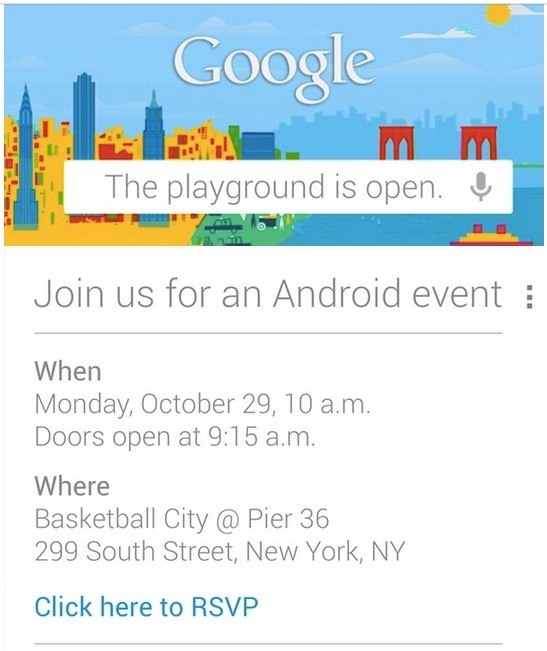 The Samsung Galaxy Nexus was launched around the same time last year. Hence it wouldn't be a long shot to expect a launch of the next version of the device on the 29th.
There are rumors of a separate Nexus tablet as well which is expected to be much cheaper than the current Asus Nexus 7, though not much is known of the specs of this device if it all there is one.
Next week is going to be action packed with Apple's iPad Mini expected to be launched on the 23rd along with the Microsoft event which would see the launch of the Surface tablet and Windows 8.
The tablet market is sure to heat up this time, with some capable challengers set to see the light of the day. Finally the iPad has some competition coming its way and the iPad Mini better be good to sustain the current tablet market share it enjoys.
The event will be telecasted live on Google's Youtube Android channel. And if for some reason you are unable to access the same, you can catch it on OnlyGizmos' website and Twitter feed as well 🙂