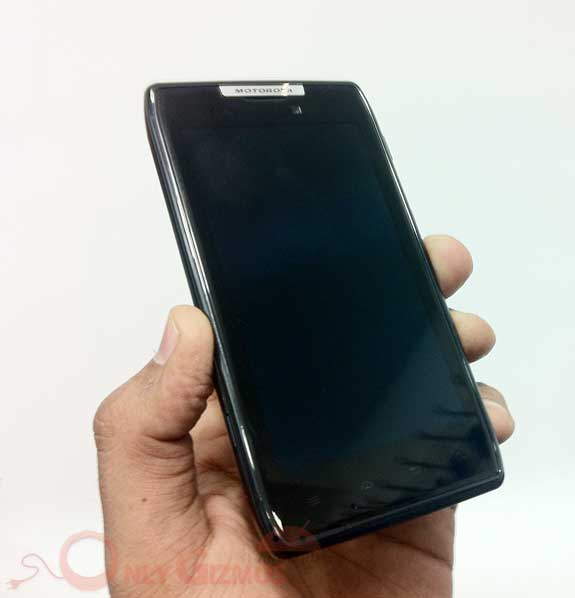 Motorola has re-invented itself with an all Android line-up and the company that first glamorized cellphones with a the stylish MotoRazr half a decade ago is back. Motorola Droid Razr (XT910) is the latest Android from Motorola and it is a beautiful beast. A giant 4.3″ touchscreen, super slim design and rugged body. We had our few minutes with the Droid Razr and here is what we have. 
Motorola advertises the Droid Razr as a "Android 4.0 (Ice Cream Sandwich) upgradeable" but it currently runs Gingerbread 2.3. We are sure that in its current form, Razr is a hardware story rather than software. The Samsung Galaxy SII is sleek but plasticky, the Droid Razr feels much better. The slim form factor of the phone gives us the same feeling that the iPod touch 4G did, but the difference –  Razr is far from delicate, it feels strong.
The only minor complaint on the design side so far is the buttons below the display, they aren't very visible. Motorola has its customizations to Android like having the unlock slider on the middle of the screen, really helps given the giant size of the device. We would wait to see how they transition to Ice Cream Sandwich.
The hardware is loaded, a 8MP shooter with full HD capability. 1GB of RAM, 1.2GHz Dual-Core CPU and a body that brings together Gorilla Glass and Kelvar. Motorola has housed a HDMI port on the top along with the Micro USB and the Micro SIM / MicroSD slot is on the left, behind a plastic door. The power button is on the right (top) and the volume rocker is placed right below it, at a location where you would normally expect a lock key. No dedicated camera button on this, a bit of a let down.

The display and still photos on the Razr didn't look very impressive, though video recording (1080p) and playback was pretty smooth. We would wait for some more time with the handset before giving a verdict on that front. For now, at Rs 33000, the Droid Razr isn't the cheapest given HTC Sensation and SGS2 / upcoming Galaxy Nexus, but we are sure that Razr has its own attraction, if only the price comes down a bit and ICS rolls out soon, it would be a killer.
Bonus: Here is a video demo (scratch test) given by a salesman selling Droid Razr
Update: Do not miss our full review of the Motorola Razr