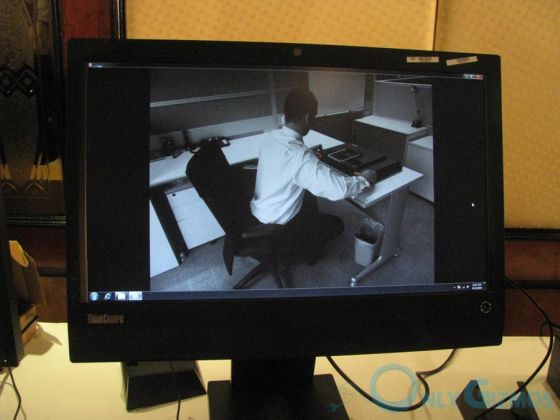 Lenovo went official with their latest all-in-one for enterprises, the ThinkCentre M90z last week and we managed to get our hands on a demo unit. The M90Z is a massive 23″ all-in-one that makes the 2009 A70z (19″) look tiny.
The M90z packs in 41.8% recycled plastic, physical on-off for webcam / mute button, option to connect secondary display and even multi-touch support in some models. The model we handled was with a height adjustable stand (other option include a frame stand and extended arm). The height adjustment tech was pretty neat, not 100% sure on what powered it but it worked better than my office chair

.
Lenovo is betting strong on these all-in-ones for the enterprise market. They claim is on great performance along with the space saving and environment friendly nature of these products. This thing has all that a regular PC needs, right from WiFi to integrated speakers and the easy serviceability bit was certainly encouraging. A couple of promo videos (exclusive!) after the break.
The touch sensitive buttons on the front panel were a little weird (or perhaps, it was quite dark out there for us to play with it properly) and the physical webcam button was damaged in transit, so skipped clicking that

Hands on with Lenovo ThinkCentre M90z all-in-one