If you own a Samsung Galaxy Note, and have been contemplating rooting it, but have deferred the decision to another day because of complicated looking (and sounding) guides that you have come across insofar, you can liberate your Note today, using this easy to understand, and easy to execute guide. A rooted Galaxy Note will let you flash custom ROMs, run special applications which require root access, apply system tweaks such as overclocking the processor chip, and many more features that are unavailable on an unrooted device.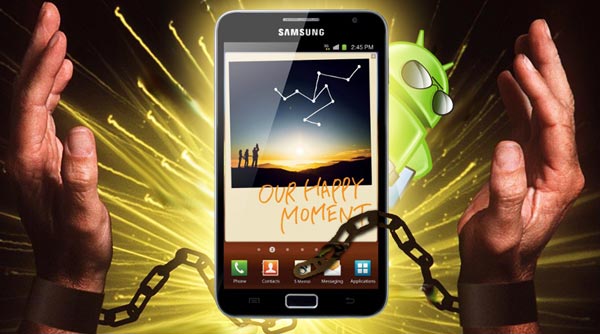 The process of rooting the Galaxy Note is pretty straightforward. We would be using SuperOneClick Root, which includes the zergrush exploit required to root the Note, and is a fully automated process, so that you do not have to worry about tinkering with adb commands. If you follow the guide to the tee, you should have a Rooted Galaxy Note in under 5 minutes.
Note:
This Procedure will VOID your WARRANTY
This Procedure will grant you root access
Requirements:
Procedure:
Download and install the Samsung  USB drivers for your PC from the links provided above
Download SuperOneClick & Unzip the compressed file to your desktop. Check screenshot below to verify the contents of the folder         
Enable the USB debugging mode on your Galaxy Note and connect it to your computer via USB cable
On your PC, navigate to the SuperOneClick folder you extracted in Step 2, and launch SuperOneClick.exe by double-clicking it.
On the main tab, click the Exploit dropdown on the extreme right, and select zergRush. This is optional and should work even if you leave it at the default "Auto"
Now click the Root button.
SuperOneClick will now start the rooting process, and you see a string of text flashing down the SuperOneClick window.
When the rooting process completes, you will be greeted with a message stating your device is successfully rooted.
SuperOneClick may also give you an option to install busy box at this point. This is optional, but recommended. Busybox is a free tool required for some rooted apps to work and can also be downloaded from the Android market.
Congratulations, your Galaxy Note should now be rooted. To confirm this, reboot your device, and then look in your app drawer for the Superuser app which should have been automatically installed during the root process.
If you've been planning on rooting your Note, go ahead and use this guide. For a list of guides on how to root other devices, you can check this link.  And feel free to let us know if you want guides added for a specific device, and we'll be glad to make it happen. Should you run into any issues while flashing your device, let us know, and we'll do our best to help you out.
[How To] Root the Samsung Galaxy Note GT-N7000