HTC has unveiled its much awaited flagship Android handset, the "HTC One" at a event earlier today. The device packs in a bunch of features that might make your eyes pop. A worthy successor to its year old range of "One X" devices, the HTC One at least on paper seems to have everything it needs to challenge the likes of the Apple iPhone, the recently announced Sony Xperia Z  and the flagship devices from Samsung. That said, we might as wait a while since it is being rumored that the much awaited Samsung Galaxy S IV is just around the corner.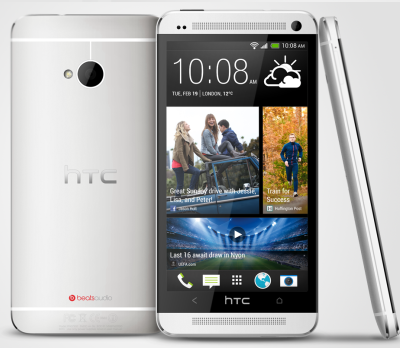 Let's now delve in to the superlative features of the HTC One.
To start with, this one's got a huge 4.7 inch, full HD LCD display that packs in an insane 468 pixels per inch. That makes some of those awesome PPI numbers on many current flagship handsets look pedestrian. At such huge PPI density, anything you show on that display should look vibrant. Under the hood, powering this flagship from HTC is the recently announced Qualcomm's Snapgragon 600 SoC. This quad core powerhouse runs at 1.7 Ghz and has 2 GB worth of RAM at its disposal. With a 40 percent performance improvement over the older S4 chips, this one's got to be fast. Very fast.
Perhaps the most important feature of the HTC One is its camera. Now you would be in for a shock if you are a great proponent of the megapixel count. Would you believe that the HTC One, in 2013 comes with a 4 (yes Four) megapixel camera!? Something doesn't seem to be right here, right? But no, the sensor on the main camera at the rear of the HTC One can only take images at 4 megapixels. HTC has put up a dedicated page to explain why the 4 megapixel camera on the One betters the 8 and 13 megapixel ones out there.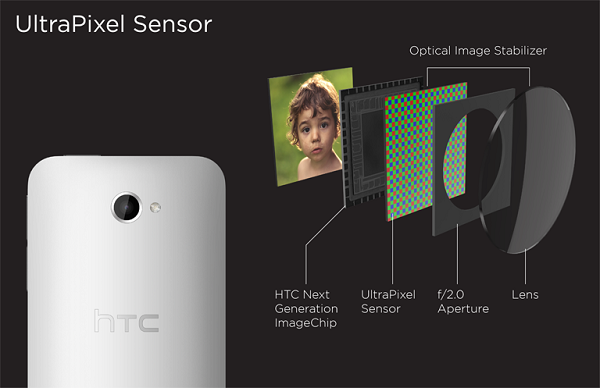 But I am quite unsure about how well it may go down with the general public. That said, at least on paper, HTC's new Ultrapixel camera seems to make sense.  The new Ultrapixel sensor on the One claims to capture 300% more light than many of its 8 and 13 megapixel competitors. We are unsure if this includes Nokia's PureView cameras which by far are the best cameras you can find on mobile phones. The aperture too matches that of the Lumia 920 at f 2.0. All this calls for a great shoot out between these two now that HTC has a device that can take the low light imaging abilities of the Lumia 920 head on.  The HTC One also gets optical image stabilization – which means Nokia has some serious competition on this front as well. Video recording can be done in full HD at 28 fps while 720p videos are ultra smooth at 60fps. Oh and lest we forget, the 2 megapixel camera at the front also gets OIS.
As expected, this one is an LTE capable device and supports most 3G bands out there. There are two versions of the phone with internal memories of 32Gb and 64 GB with no options for memory expansion.  The 2300 mAH battery seems good enough for a days worth of usage.
The pricing of the HTC One in India is yet to be announced. In fact, as of now we are unsure of its India plans but we are sure, it is headed towards us in he not too distant future.
Overall, this has been a decent showing from HTC for its new flagship. However, with Samsung expected to come up with its own flagship in the days to come, we will watch with keen interest how these behemoths will eventually stand up against each other.