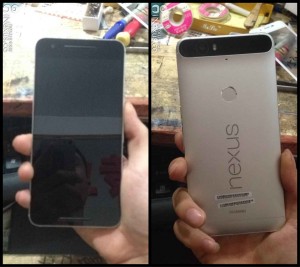 iNexus.co allegedly leaked the images of the upcoming nexus made by Huawei. The photos clearly shows the big awkward camera at the back of the mobile. It also shows a fingerprint sensor positioned just like the Nexus 5 2015 version rumored earlier this month. It also sports a laser auto-focus attached with the camera in it. The phone may also feel pretty huge in hand due to its 5.7 inch display compared to 5.2 inch display of LG's Nexus 2015 which can be a perfect size for everyday use.
Huawei is a Chinese company founded by Ren Zhengfei in 1987 at Shenzhen, China. It is company with more than 150,000 employees as listed on Wikipedia and serves almost every country in the world.  
The Huawei's Nexus also shows up a with a nicely designed metal body with front speakers. The front speaker is a must have thing because of its great user experience. As seen properly the awkward camera bump, we can assume that the bump just might not that big but would be helpful in compressing the other part of the body and would make the phone look slimmer than other phones in the market.
After having a look at the rumored Google's Nexus made by Huawei, we have got an option over the rumored LG's Nexus 5 2015. Once launched officially you would be able to decide and buy one of the two based on the company you trust and the one offers better spec and build quality.
There is no official launch date for either devices have been revealed or any conformation has been made that they exist yet, but the rumors suggest that the phones will hit the stores by the end of the year for sure.