If you are green-minded gadget geek, then you'll undoubtedly love this one. Horizon Fuel Cell Technologies (a Singapore-based alternative fuel cell company) launched HydroFill – World's first "Hydrogen Power Station".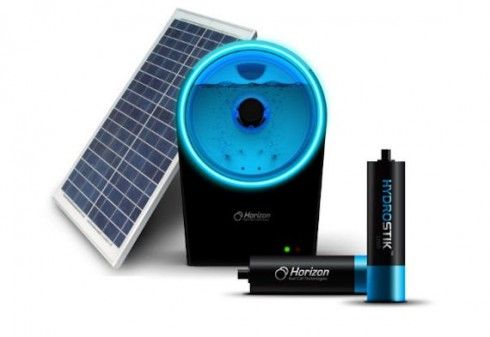 What HydroFill fundamentally does is it breaks down water in to hydrogen and oxygen using electrolysis. (Remember your school days) The extracted Hydrogen is stored in cartridges called "Hydrosticks". As an alternative to external power supply, it gives you small solar panel to charge your Hydrostiks and is also compatible with small wind turbines. You can then use MiniPAK (a micro-fuel cell power supply that converts Hydrogen stored in Hydrostiks into electricity) to charge your USB-powered gadgets.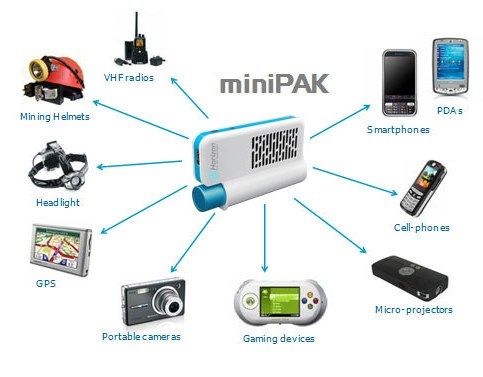 Over technical front of it, Hydrostiks contain metallic alloys that absorb hydrogen into their crystalline structure and release it back at low pressures. This storage technique also creates the highest volumetric energy density of any form of hydrogen storage, even higher than liquid hydrogen.
HydroFill produces water vapor as by-product, meaning zero pollution. The only drawback (a significant one though) is that these cartridges are not refillable. (Meaning one use throw). 
As Steve points out in comments these are indeed rechargeable and have a decent lifespan of 200-300 refills. Not just powering your gadgets, Horizon considers HydroFill as the first step towards private refueling of new generations of fuel cell electric vehicles, reducing their dependence on hydrogen fueling stations.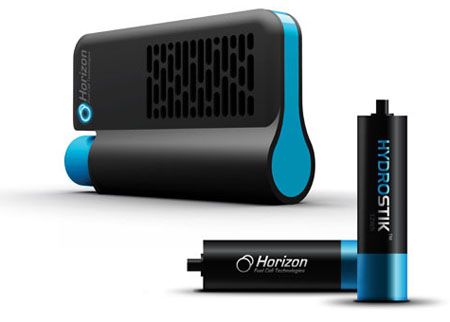 This hydrogen power station is expected to hit commercial market by April this year. But expect it to dig a big hole in your pocket. HydroFill powerstation system costs a whopping $600 ( approx. 27,500 INR ) while the MiniPAK  costs another $150 ( approx. 7000 INR ).
Even though it is costlier than standard remote chargers, it's great development in the direction of reducing our dependence on fossil fuels. Horizon has acknowledged the cost factor and stated that they are currently banking on green energy enthusiasts to buy them.

(via GadgetLite & Horizon's Press Release PDF)