Ghulam Nabi Azad, the health minister of India, addressed a meeting of World Health Organization in New Delhi this Tuesday stating that they would be collecting mobile numbers of all pregnant mothers and thus keeping a track of the immunization of their babies over the phone.
The new initiative announced by Mr. Azad aims to collect mobile numbers of around 26 million pregnant women, adding that the initiative was undertaken in January this year and is marked for completion by the end of the year. The task of tracking mothers and immunizing their babies will be undertaken by the central and the state governments to ensure their successful implementation.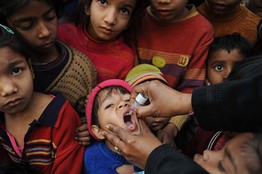 Though India has been carrying out various initiatives for vaccinations, they have not been remarkably successful with only 72% of the newborns vaccinated with DPT vaccine against diphtheria, tetanus and whooping cough in 2010; which is way below what other Asian countries like Bangladesh at 95% and Indonesia at 83% have achieved.
The failure for the same can be blamed upon the fact that there is no decentralized and structured public health infrastructure in place. Though, the real cause for concern appreciated by Mr. Azad himself is the accuracy of the numbers data being collected by the local health officers. He admitted that he found out 4 wrong numbers from the first 10 that he called from a list collected by his health officers.
Well with over 827 million subscribers in India, this initiative by Mr. Ghulam Nabi Azad seems promising. Though the mobile penetration is still at 70%  approximately, there is still a lot of scope for accuracy that this initiative offers.
Via IndiaRealTime