For long, phones coming across the Indo-China border were considered as cheap substitutes for Apple and Samsung. If you told the Indian consumer that soon these Chinese phones would vie for a significant share of the Indian Smartphone market, they would take you for a fool. Then homegrown companies such as Micromax and Karbonn took to importing Smartphones from China and marketing them under their brand in India. A strategy that worked wonders for these indigenous brands.
Cut to 2014, Xiaomi China's foremost mobile manufacturer holds weekly flash sales for their 1s, on 6th of October, during Xiaomi China's foremost mobile manufacturer holds weekly flash sales for their 1s, on 6th of October, during Flipkarts 'big billion day' sale 40,000 units were sold in 4.5s.Not too far behind Xiaomi are Gionee and Oppo, combined these chinese manufacturers have an estimated market share of 5% in the Indian Smartphone market.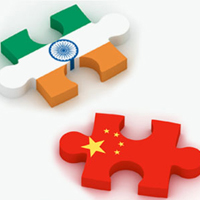 Till about five years ago, China sold cheap, poor quality products in India. Despite being the manufacturing capital of the world, building a bias in people against all things Chinese. The emergence of brands such as Alibaba and Xiaomi on a global level has helped people overcome their prejudice for Chinese goods and service (also not to forget that your favourite Apple or HP products are manufactured in China).
To overcome any anti-Chinese sentiments that might exist, the brands have focused on the power of innovation and competitive pricing to ensure that, the user is provided with a great product.
Chinese brands owe a large part of their success to the growth and development of e-commerce and the internet of things in India, today 10 % of India's 30 lakh crore retail market is carried out over the Internet.
Realising the role China will play in the technological development of India. The Internet and Mobile Association of India(IAMIA) is leading a team of 23 delegates to meet companies such as Alibaba, ctrip.com and Xiaomi to develop long-term sustainable business relationships.
The five-day visit with twenty-three delegates will be lead by Google India head Rajan Anadan and will include Hungama Digital Media's Neeraj Roy, Dhruv Shringi from Yatra.com, Joy Bandekar from Flipkart and Chakrapani Gollapali of Microsoft among others. The aim of this meet is to develop sustainable business relationships while focusing on cost effective solutions. This meet hopes to create a conducive ecosystem to nurture start-ups in the digital space.
"The visit will play a pivotal role in setting the ball rolling towards exchange of technical knowhow and managing of large scale businesses. To give a fillip to Indian e-commerce sector, knowledge and operations insight is key to success of large scale operations," IAMAI President Subho Ray said
In today's day and age of globalization, the Indian customer has truly become global. We have thousands of solutions to any one of our problems, so gone are the days of sentimental and uniformed purchases. The sole driving force behind the modern customer is value for money; they want the maximum bang for their buck. In our search for this value, we seem to have embraced China and all things Chinese because currently they satiate our need for a bargain, with their innovative, cost-effective and efficient products.