Instagram has been active since 4 and a half years and is not very young anymore, it doesn't want users to slip away from its application. After Twitter bought a completely new start-up to power re-engagement by emailing the best tweets a user might have missed, Instagram has ended up doing something pretty similar, except it won't be tweets but pictures.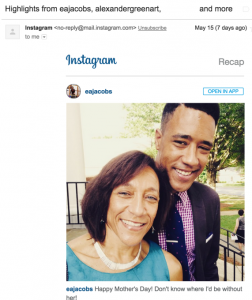 Instagram has started it's own email digest known as the 'Highlights'. These emails features a few of the best posts from people the user follows as Instagram believes that it will help them rope back the users who've strayed away from the application.
Reports stated that it's for the first time for Instagram to send any type of re-engagement or promotional email. Instagram apparently right now needs more users to voraciously browse its feed as it wants to accomplish its mission of sharing moments alongside fuel its ad-based business.
Instagram's strategy has been to avoid letting pictures slip outside its walls and hence doesn't let Twitter render its photos in-line. It sending these emails are with the intention of reaching users 'half-way' which will remind people what they are missing out by not accessing the application.
The email threads like 'Highlights' can solve issues which are common amongst maturing social networks. These threads may not have major impacts on relevancy-sorted streams like Facebook but it sure does have it's effect on social networks like Instagram and Twitter. Along with this Facebook has also been working on an update called Flashback. After Facebook buying Instagram, the application has gone through a lot of layout changes since the last year.
There probably will be an unfiltered feed problem that can happen if a user follows too many oversharers which will drown out their real friends who may not be frequent updaters. This can lead to be people being stingy in who they will follow which can make it difficult for new users to gain an audience and might not want them to stick around. Though these effects can be offset with ways to surface the most popular content in your network.