Just as we expected last weekend HTC Hero update to Android 2.1 (éclair) was released in India. With this new software upgrade there were some different settings available to install and use certificates. Since, many people had trouble in installing certificates on their Android devices I wrote the article Adding .cer certificates on your Android phone. That article was for Android 1.5 but still helped many users to get their WPA2 enterprise Wi-Fi working on their device. So this one goes about how to add and install certificates on your Android 2.1 (Update 1) device to make it get connected to a secure network, which requires credentials.
Follow the below mentioned steps to successfully add .cer certificates on your Android 2.1 device.
Read Adding .cer certificates on your Android phone and follow the steps mentioned in Section I (Download the certificates) and Section II (Converting certificate extension).
By following those steps you will get your certificate file (for example abc.pfx). This is the file which you will need to install on your android device.
Copy this file to the root folder of your SD card.
After doing this go to Android Market and download ASTRO file manager. It is a free file manager program for your android device. If you do not have your device connected to internet, then you can download from your computer and manually install ASTRO manager from this 4shared link.
Once it gets installed open ASTRO File Manager, locate your certificate in it, Tap on your certificate and hold it.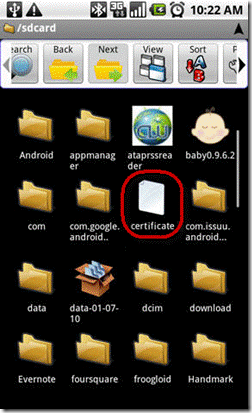 6. File options dialogue box will open up, in this box click on Edit button.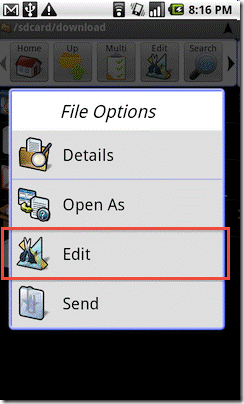 7. Then From the Edit options select Rename.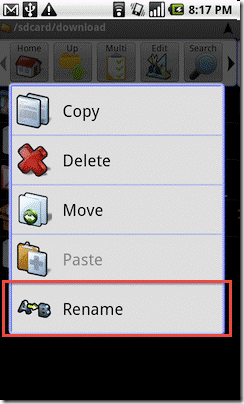 8. A new window will pop up asking you to rename the selected file. In this box, just change your certificate extension from .pfx to .p12 and hit OK. A new confirmation box will pop up. Confirm the rename by clicking Change.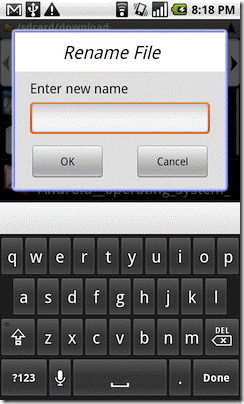 9. Wow that was easy, isn't it? Now exit ASTRO File Manager and go to Settings > Security and tap on Install from SD card.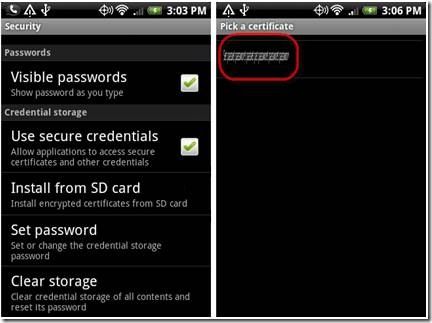 10. A Dialogue Box will pop up asking the password to extract the certificate contents. Enter the password in the dialogue box and hit ok.
11. After extracting certificate contents, the system then asks you to add a Name to the certificate. Write the name you want to keep and tap OK.
12. It will then ask for the credential storage password. Please enter the password you have set for credential storage and tap OK. That's all folks!
By doing this you can successfully install certificates on your Android 2.1 powered phone.