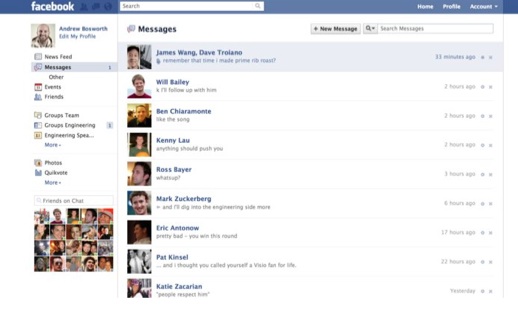 After all the speculation about launching a "Gmail killer," Facebook has finally taken the wraps off a new e-mail service. Or in CEO Marc Zuckerberg's words, a "modern messaging system," which he said was not an e-mail killer.  Yes, Facebook users will now be able to have a @Facebook.com e-mail ID, but what is really interesting is that the messaging service, called Messages, is the fact that it lets you communicate to your friends by chat, mail or text and what's more, lets them receive the message through whatever medium is convenient to them. In simple terms, you just click on the name of  a person to send him, or her a message – you do not have to bother about whether they prefer reading mails, IM or texts.
It seems clear that Messages is very much modeled on chat. It is designed for real time conversation and has no subject, cc or bcc fields – you just write your message and hit Enter and it's on its way. Also, all one's messages sent to a particular person, be they chat, text or mail will be in one place – everything that you have discussed with a friend with be one single conversation. There's also the Social Inbox which displays only messages that come from your Facebook friends – any others (from strangers or institutions like the bank or post office) will get shunted into an Others box. Settings can be tweaked to exclude those you do not particularly like – pretty cool, we think. More details (and there are quite a few) can be seen at the New Messages website.
Messages and e-mail IDs will be rolled out gradually, and you can ask for an invite to the service here. Meanwhile you can check out the official video and the official blog entry announcing the service here.Yes, we have applied for our invite. Yes, we will let you know our experiences as soon as we get it. And if it is going to kill Gmail!