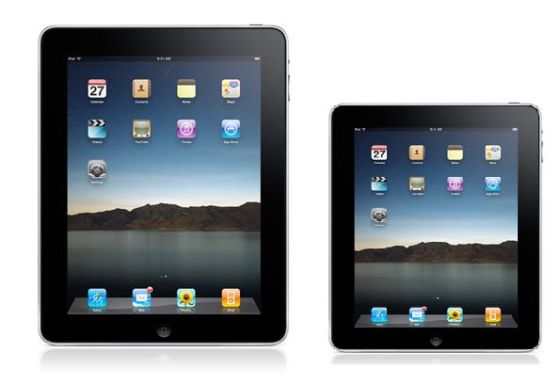 Apple's iPad received an overwhelming response from tablet lovers with over 300,000 iPads sold on the very first day of its launch. But for some, the 10″ iPad is way too big. Digitimes research claims that Apple is working on a junior iPad which would fit perfect between the iPad and the iPhone.
According to "upstream component sources" of Digitimes's senior analyst, Mingchi Kuo, Apple is working on a mini iPad to be released in the first quarter of 2011. The mini iPad would be target to those audiences who focus mainly on reading and web browsing instead of the full blown features of an iPad. This mini iPad would feature a display size of 5″ to 7″ and would cost below $400.
Digitimes also says that the HP Slate would be launched in the mid 2010 and would not be able to provide competitive portable experience as it uses Intel processor which consumes more power. But the report goes on to claim that the HP Slate would effect iPad's sales.
If  you ask me this (iPad Nano) makes a good April Fools Day joke!
via [Digitimes]