India's homegrown mobile phones industry seems to have come of age of late. We have been hearing quite a few tie-ups by desi companies with prestigious brands in the past few months. The biggest one was probably Lava Mobiles tying up with Intel to bring the first Medfield chip based Android powered smartphone – the Xolo. Today, we have another similar tie up being announced with Karbonn Mobiles announcing that they have tied up with Dolby Laboratories. The first product resulting out of this union is known as the KT 81 "Cosmos".
The KT 81 is the first amongst a lineup of Karbonn mobiles' which would come loaded with Dolby technology. As for this handset, let us take a quick look at what it has on offer.
The KT 81 is a full capacitive touch device with an 8.1 cm display. Karbonn calls the UI on the device the "Cosmos" interface. And from what we make out, this seems to be an UI layer that runs over the stock Interface of Karbonn's proprietary OS. The phone seems to be targeted at the youth with features that would entice them. There are however some drawbacks like the lack of 3G and Wi-Fi connectivity options. There is support for Bluetooth, though.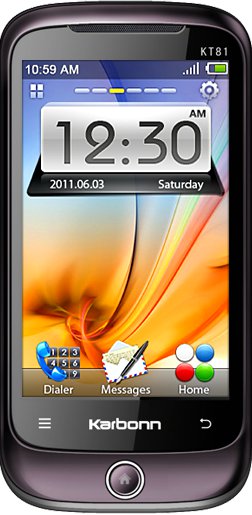 The phone gets a 3.2 megapixel camera at the rear and supports video recording as well. Thanks to its Dolby certification, the phone is targeted by Karbonn as an affordable music phone. It gets a decent music player as well supports the all-important 3.5 mm jack. There is a 1000 mAH battery that would power the device for all its multimedia tasks.
Karbonn hasn't revealed the price of the KT 81 but we hope it is on the better side of the Rs. 5000 mark. What do you think?