The security experts all around the world are gearing up for the threats posed by hackers. A collaborative effort is already in place to bring about a team effort and help each other against such threats. All giant tech companies are pushing the priorities for fortressing against the malware and cyber attacks. And the latest victim is Lenovo website which was breached and redirected. This incidence occurred at 4PM ET on Wednesday when the users visiting the website were offered a slideshow of a person sitting with a song 'Breaking Free' running in the background.
As reported by The Verge, the site seemed to have reverted back to its normal self by 4:17, with some HTML problems and some instances of song still present. The hacked version appeared randomly as the cached version of the system but the site was fully restored by 5:30PM. But later in the afternoon, the site remained unavailable for system maintenance.

This was a said to be "domain hijacking," a type of attack against the Domain Name System (DNS), which translates domain names into IP addresses that can be called into a browser. A hacker group Lizard Squad claimed the responsibility for the event on Twitter. Apart from redirecting the users, the hacker group also intercepted some internal email chains. But no there are no reports on user data to be compromised. Lizard Squad had been behind many other high profile breaches like attacks taking down Sony's Playstation Network and Microsoft Corp's Xbox Live network.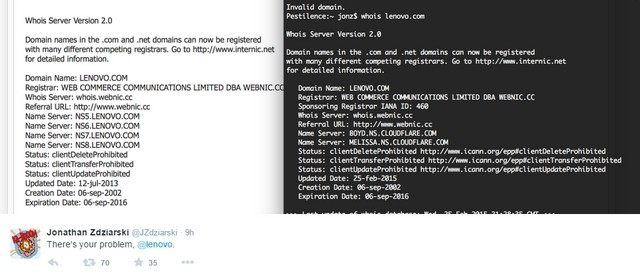 In a statement issued by Lenovo on Wednesday night, it said that the site was back to its normal operations and it is working on to bolster all the security mechanisms. The changes were apparently made through Web Commerce Communications, known as Webnic.cc, a Malaysian company that registers domains names. Experts have suggested that Lizard Squad might have obtained the authentication credentials used by Lenovo to modify domain name records. Another possibility suggests that there might be a vulnerability in Webnic.cc network leading to the event.
Lenovo is already under the grind for its Superfish debacle and is facing a lawsuit for it. Although the companies prioritize such incidents to restore the damages and give out solutions at the earliest, more concerning fact about it is the onset of such incidents in the first place. It is need of the hour that technology companies reevaluate their systems and security mechanisms.