LG India has announced the launch of its much talked about G Flex smartphone in India. The handset with a curved display was launched at an event in Delhi where the company also launched an OLED TV – again, with a curved display. While the OLED Tv got a 10 lakh price tag, LG did not reveal the final price of the G Flex. There are however talks about a possible February launch at a price tag of around Rs. 60,000 to Rs.65,000.
Let's quickly delve into the specifications of the G Flex again. The handset measures 160.5 x 81.6 x 7.9 x 8.7 mm across and gets a large 6 inch display. Unlike the Samsung Galaxy Round which curves horizontally and gets a full HD panel, the LG G Flex romps home with just a 720p display. The only reason I can think of now for LG to discard a full HD panel was the prohibitive cost to manufacture a curved full HD panel. Just a guess.
Powering the hardware on the device is the top-of-the-line Qualcomm Snapdragon 800 SoC that houses quad core chips clocked at 2.26 GHz. There is 2GB of RAM and 32 GB of on board memory. No, you cannot add an SD card and expand the memory further. Connectivity-wise, we have almost everything covered with support for Wi-Fi, Bluetooth, NFC, GPS and USB 3.0. There is a 13 megapixel main camera and a 2.1 megapixel front facing shooter. The main camera is capable of recording full HD videos. On the software front, LG runs its own proprietary Android UI atop a Jelly Bean 4.2.2 core. This should soon be updated to Android KitKat, I believe. Under the hood, LG has managed to squeeze in a huge 3,500 mAh battery which is reassuringly large enough to last an entire day of nominal usage.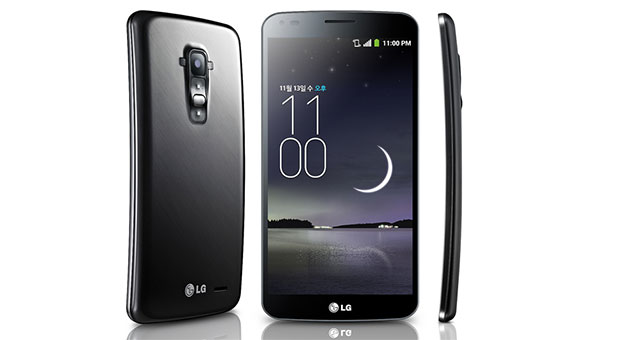 Another key feature on the LG GFlex is its ability to "self heal" minor scratches and dents. The phone apparently comes with a molecular sub structure coating that endows it with this ability. The effectiveness of the self healing feature is dependent on the type of scratch and the temperature of the room where the phone is kept. The warmer the place, the faster the phone would heal. Also, don't expect the phone to heal very deep scratches and dents. We are not there, yet!
While LG has officially kept mum as far as the price of the G Flex goes, we have rumors of a possible 60k plus price tag once the phone officially lands in February.