LG's recently launched portable projector – the PG60G – also known as the "MiniBeam" is the star of a online video campaign from LG Electronics. The video – uploaded on October 28, 2013 has already been viewed by over 3.9 million people and is fast approaching the 4 million mark! Before we talk about that video, let's see what the MiniBeam is all about.
The MiniBeam is a DLP based projector that is capable of projecting videos and images at a resolution of 1280*800 pixels (in a 16:9 format). With up to 500 Lumens of brightness, the projector doesn't really require dimly lit environments for optimal performance. The LED lamps that power the projector are rated for 30,000 hours of life.The MiniBeam features a vintage design – but with touches of modernism thrown in. Unlike most modern projectors, this one sits vertically on any surface. It gets a rechargeable battery as well – enhancing its portability. This battery is housed inside a detachable cradle – and not inside the projector body.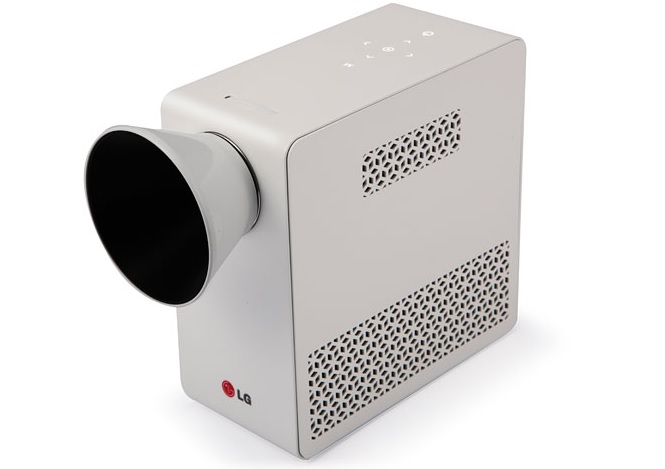 Being a portable projector, it is imperative that it gets a host of connectivity options – and the MiniBeam doesn't disappoint. This projector supports HDMI, USB 2.0 and WiDi. There is a built-in DTV tuner thrown in as well and so does support for Miracast.
As for the video, the main character in it is a multimedia artist Juan who uses the MiniBeam projector in various creative ways. He uses the projector to showcase his video art to unassuming audiences across his city. One of the most impressive bit in the video is how he connects to his audience after fitting his car with a bunch of MiniBeams and projects realistic looking videos on to the streets. Here is the video of him in action – definitely worth a watch!
The LG MiniBeam is priced at around $699. At this moment we are unsure if this interesting device would be coming to India!