LG's recently announced flagship Android handset (if you discount the Optimus G Pro) the G2, is already available across a bunch of countries internationally. If you were wondering as to when this one would land here in India, we might have some news for you. LG India has issued invites to the Indian media (and to us as well) regarding an event that is scheduled to be held on September 30.
This is what the invite says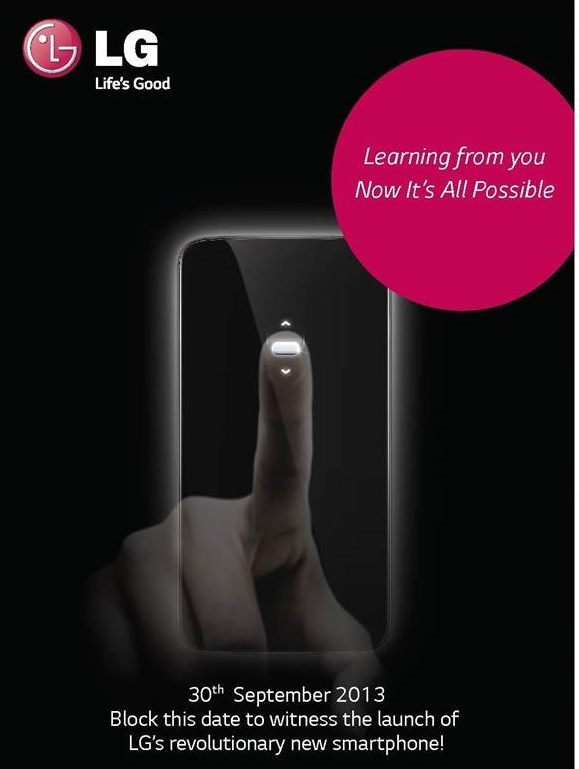 It is quite obvious  as to what phone the device in the picture is – thanks to the volume control buttons at the back of the phone which makes the G2 easily identifiable.
The  LG G2 in case you are not aware, features a 5.2-inch full HD screen which is a bit larger than the 4.99 inch one on the Samsung Galaxy S4 and the HTC One – its chief Android toting rivals. It is however quite smaller compared to its its own cousin – the Optimus G Pro and the just launched Galaxy Note 3 which boast of 5.5 inch and 5.7 inch displays, respectively. Powering the smartphone is Qualcomm's Snapdragon 800 SoC with a quad core processor housed inside it that runs at 2.2 Ghz.  Running Android 4.2, the phone also packs in a 13MP rear camera, a 3,000 mAh battery and 2GB of sufficient RAM. Connectivity options are aplenty with support for  3G, Wi-Fi, Bluetooth 4.0, NFC, infrared and micro USB 2.0.
Like I said earlier, the most peculiar feature of the G2 is the placement of the power and volume control buttons at the back of the device – rather than the sides which is the usual location of these buttons on most handsets. I am of the opinion that the back of the phone seems to be a more logical (and ergonomic) position for the placement of these buttons. That said, I would reserve a judgement only after I get to use the phone.
As of now there is no word on the pricing of the G2. However, being a flagship, I do not expect this one to be cheap and assume this one to cost above 45k. But hey, it's fine if LG chooses to surprise us all and price it way cheaper!