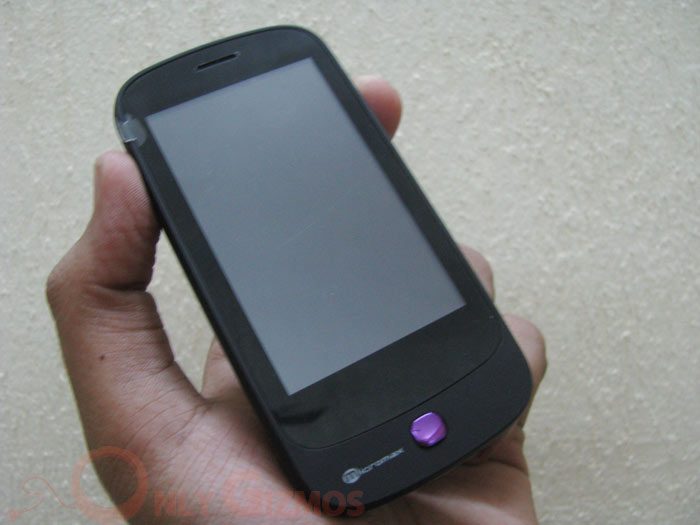 Micromax Mobiles might have started off as a small time player in India, but they are now amongst the top five mobile phone makers in the country – by no means, a small feat. Micromax has had quite a few decent handsets in its arsenal – most noticeably the likes of the Q7 which are genuinely decent entry level handsets. They also have a wide range of touchscreen devices in their arsenal and the latest one amongst them is the interestingly named Qube X550. Let's see whether this phone has what it takes to be in your esteemed pocket.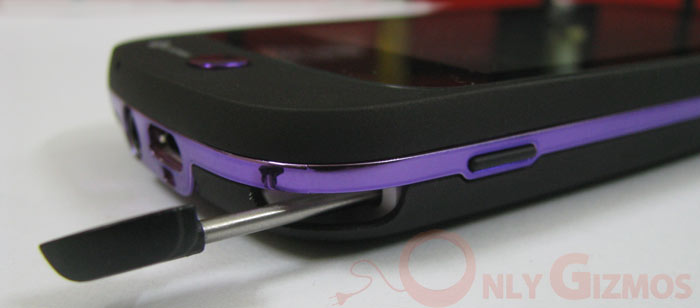 Design
The Qube is a decent looking handset and gets a minimalistic design treatment. Apart from the large 3.2 inch display, the only thing present on the front facia is the menu key. Not even calls receive/hang up buttons. While it's a tad irritating getting used to having no physical keys to make and receive calls, I was able to get used to it in no time. If you thought the phone might show off stuff at its rear, well, be prepared to be disappointed. There is just the camera and the speaker grille there. The matte finish at the rear looks classy.
There is a thin strip of plastic running across the sides which a neat design inputs to make the phone look more expensive than it actually is. At the top, there is a tiny power button. The appropriate bits include the dedicated camera button on the right side and the presence of a 3.5mm audio jack at the bottom. A micro USB port alongside the 3.5mm jack completes the connectivity side of things. Apart from this, there is a volume control button on the top right side of the phone.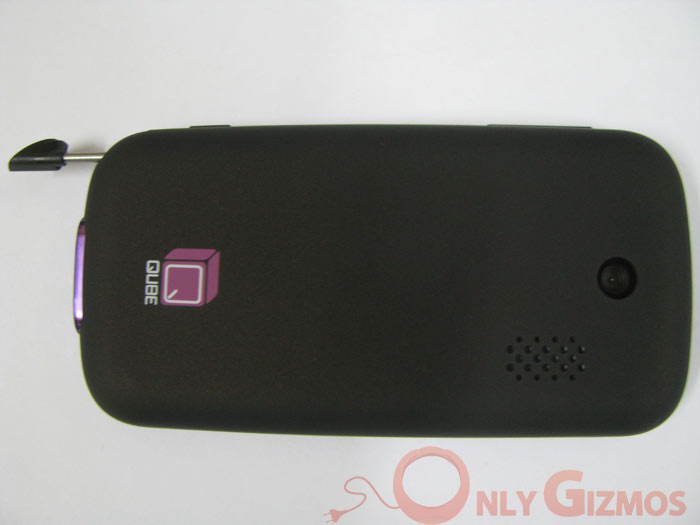 Features
For its price, the Qube is surprisingly loaded. It has almost everything you would expect from a mid range touch screen handset. Except that this one is priced way below the mid range level. For starters, its got a resistive touch screen, a 2 mega pixel camera, video recording, support for memory expansion and for java applications and decent music playing ability.
The phone we purchased didn't come with a memory card pre loaded – but then, that's excusable at the price which the Qube would sell. Also, microSD cards are quite affordable these days. Overall, an extraordinarily decently spec'd device and considering its price point, we sure have a winner here, purely in terms of the price to features ratio.
However, is that enough? Oh and yes, the phone is a GSM+GSM dual SIM handset. It can take two SIM cards and both would be active at the same time.
User Interface
I was quite fond of the UI that previous models of Micromax devices used to run. That unfortunately is not the case with the Qube. If you have used even a decent resistive touch screen (much less, capacitive) on another device, you're going to have a hard time "adapting" to the Qube's unresponsive touch screen.
The standby page is heavily inspired by HTC's Sense UI and the iPhone both. You would need to slide up to unlock the screen. Unfortunately, you would need to keep it pressed and slide all the way up to unlock it – unlike in other phones where you can just slide it slightly, and it is unlocked.
Being resistive in nature means it would make sense throw in a stylus and Micromax has done exactly that. The first thing you would notice when you interact with the UI are the animations and transitions. While we are not sure what kind of processor drives this phone, it is doing a pretty admirable job with the animated menu options. You can choose to have your menu spread out in various formats – one being the cube format (from which the phone derives its name). This is essentially different ways of pushing the same thing to attract the consumer.
That said, even with the animations, the menu is quite zippy and doesn't lag much. Text entry is limited to an onscreen keyboard in the portrait QWERTY mode. This has been (at least for me) a significant irritant that affects the usability of this phone.
Another problem I faced was that I wasn't able scroll using fingers or using the stylus to read SMS'es completely. Okay, I might have not gotten used to it, but any learning curve shouldn't be as painstaking to learn as this one.
Applications
The Qube has decent apps support and will take in most Java applications. It comes preloaded with Snaptu and Opera Mini – which does a decent job of handling your browsing tasks. No complaints on this front. The only grouse again is the text entry method being limited to the portrait mode QWERTY keypad. We'd have appreciated even T9 here.
Camera
The 2 megapixel fixed focus camera at the rear is pretty OK. Images are nothing exceptional. There is no flash, so you can forget about low light photography. Same goes for the video recording bit. However, the fact that these features are actually included for this price is a big thing in itself. We do have some photo samples for you to let you decide.
Camera photo and video samples coming soon!
Music
The phone has a decent music player and has an exceptionally loud loud speaker at the back. It's loud to the extent that it hurts your ears. Music quality via headphones too was way above average – considering the price of the phone. We paired a Creative EP-630 with the phone, and the music playback turned out to be uncommonly altruistic It has a plethora of equalizer settings to play around with – but in all, I was extremely happy with the music quality.
Make sure you invest in a decent earphone to fully enjoy the music output. That said, if you are even remotely related to an audiophile, please stay clear from this one.
Battery Life
The Qube X550 comes with a large 1200mAH Li-Ion battery. The battery lasts well over a day and a half with nominal usage. This nominal usage included a few calls about half an hour of Internet browsing and a lot of SMS'. In all, I was pretty happy with the battery life of the device.
Conclusion
 The Qube is a pretty decent handset for the price it retails. (Rs. 4700). However, if you are about to get this one after using a Nokia or even a Samsung, you would have a hard time adapting to the UI and its unresponsiveness. At the end of the day, its not just about features. The user experience counts as well. It is on this front that the Qube didn't deliver. Yes, on paper, it has all features you need. But sometimes, that just isn't enough.
 The Qube is targeted at a first time user from a semi rural area where just having a touchscreen is a big thing in itself. It's in markets like these that Micromax sees is potential and they have been tremendously successful in doing that. So, for a first time user, on a shoestring budget, the Qube is the ultimate value for money. Who wouldn't mind getting the most bang for their bucks? So what if it has no FCC certification and you have no clue of what ration levels this deals with, right?