Microsoft launched the Nokia 215 phone in India for Rs. 2,149 without much buzz. The phone's main feature that the company has been promoting is the fact that it is internet ready. Since it is really affordable, the phone is not 3G enabled but that can't be expected from a phone that costs so less.
The phone has a 2.4 inch display with the resolution of 320×240 pixels which takes the pixel resolution to 166PPI. It supports a microSD card with up to 32GB of storage. It has a rear camera with a 0.3 Megapixel sensor but lacks a front camera. The company claims that the phones 1100mAh battery can last upto 21 days of standby time and upto 20 hours of talk time on 2G networks. Also, it supports Dual SIM cards.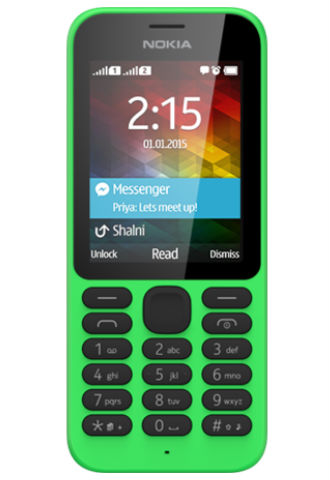 The device has an in-built torch and will be available in various colours such as black, white and green. Just earlier this week, Microsoft had also released the Lumia 532 Dual SIM and the Lumia 435. They also announced cash back discount on the Lumia 830 and Lumia 930 which are their premium phones. So all in all it has been a hectic week for the company. Even though Microsoft has stopped branding their Lumia series with Nokia, they continue to launch certain phones under the name of Nokia. The Lumia series of phones run on Windows but have not been able to make a significant growth in the competitive smartphone market.
Nowadays a lot of companies are offering smartphones for really low prices but there are still people who buy feature phones. It's obvious that such phones will not boast of any good specifications but they are good for people who only use their phones to make calls and send text messages. Plus the fact that these phones are now GPRS enabled, a user can at least perform basic tasks that need internet.