What if someone offered you free storage over cloud, that too equivalent to the size of your hard disk? Yes, you have got it right. Microsoft has taken the cloud storage war to another level by offering 100GB free OneDrive storage. But to avail the latter offer, users must have a Dropbox account. This offer comes as OneDrive turning a year old now and the free cloud storage is added as 'enthusiast's bonus' to the user's OneDrive account. Such offer has prompted Microsoft as the most lucrative cloud storage platform without any doubts.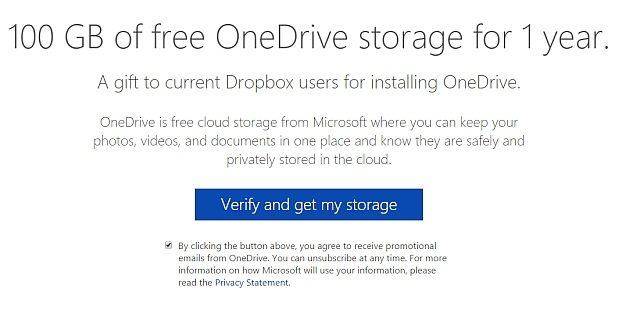 This is a promotional offer to Dropbox users which will continue only for a year. On Thursday (19th February), twitter handle of OneDrive offered this and at the same time took a dig at the Dropbox users to switch to OneDrive.
To avail this offer, Dropbox users need to go to the bonus page and redeem their share of 100GB. The page verifies both OneDrive and Dropbox accounts of a user. On a successful account verification, OneDrive will request to add a "Getting Started with OneDrive" .pdf file to the user's Dropbox folder. On the pdf file being added to the user's Dropbox account, the page will redirect to a confirmation page that reading – Your bonus storage was successfully applied.
On similar notes, earlier this month, Microsoft had started offering 100GB of free OneDrive cloud storage to its US consumers for two years. This offer was reportedly rolled out for users all over the world via Bing Rewards program. This would have allowed a user to have access to over 200GB of free space over the cloud (100GB via Bing Rewards and 100GB for the Dropbox users). But reports have suggested that the Bing Reward services are no longer available to users in India. Users who tried claiming this service, are redirected to a Bing page that reads the unavailability of the service.
So only if you were in need for a hard disk or a SD card, hold on to your thoughts, at least for a year now. Get your Dropbox accounts, if you don't have one and enjoy this gift to its fullest.