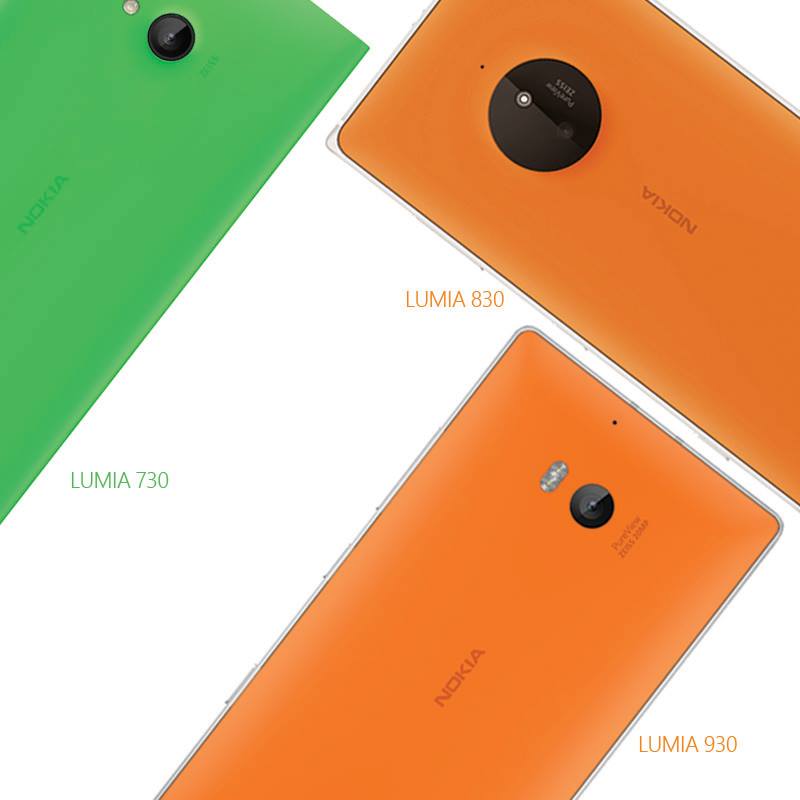 Microsoft has launched three new Lumia phones spread across different price ranges, starting from the affordable Lumia 730, mid-ranger Lumia 830, to the premiumly priced Lumia 930. The Lumia 730 and Lumia 830 will be available in stores from 8th October, 2014 whereas those looking to buy the Lumia 930 will have to wait until 15th October, 2014 to get their hands on one. To attract more cloud users, Microsoft is offering free 1TB OneDrive storage for the first six months and after that one will have to pay Rs. 150 per month to continue this service.
The Lumia 730 is marketed as a "selfie smartphone" as it has a 5 Megapixel front facing camera with wide lens which helps users to take better group pictures. It comes with 1GB RAM and runs on a 1.2GHz Snapdragon 400 quad core processor and two SIM slots. The phone sports a 4.7 inches screen with the resolution of 1280×720 pixels; the pixel density is around 316 PPI and comes with 8GB of internal storage which can be expanded to 128GB.
Like the Lumia 730, the Lumia 830 too comes with 1GB RAM runs on a 1.2GHz Quad core processor. The phone has a 5 inch LCD IPS display with the same resolution as the Lumia 730 but has a lower PPI (296) because of a larger screen. It has a 10 Megapixel PureView rear camera and a 1 Megapixel front camera. So, it outdoes the Lumia 730 in some areas and falls short in others.
The Lumia 930 being the costliest among the three, it does have better specs. The phone has a 5 inches display with the resolution of 1920×1080 pixels at 441 PPI. It runs on a 2.2GHz Snapdragon 800 processor and is powered with 2GB RAM. The rear camera is of 20 Megapixels and has Optical Image Stabilization. It also has a 1.2 Megapixel camera with wide angel in the front.
The phones will be priced at Rs.15,299, Rs. 28799 and Rs. 38,699 respectively. These phones will be launched around the festive period in India. Even though Windows as an OS has just 3% of the smartphone market share globally, purists may still buy of these.