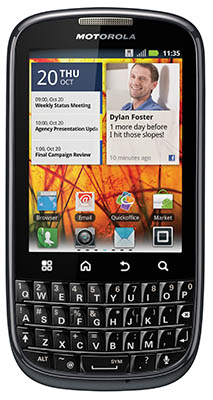 Motorola has announced the Pro+ for Asian and European markets. Similar to the Droid Pro and Fire in looks, the Pro+ packs in a GHz processor with Android 2.3. 2011 seems to be the year when the touchscreen + QWERTY is finally picking up pace. The Pro+ is a 3.1″ Touch Screen (640 x 480 pixels) with a beautiful QWERTY keyboard below it.
Pro+ aims for the enterprise market with as many as 25 Exchange ActiveSync security policies including 3LM integration and given that this comes at a time right after Blackberry has released the 9900 with a Touch Screen + QWERTY, comparisons are bound to happen. Motorola has announced an October launch for the Pro+, no date or price specified. We would expect this to come to India right after the Defy+ (BTW anyone noticing the new naming scheme inspired by a new social network?)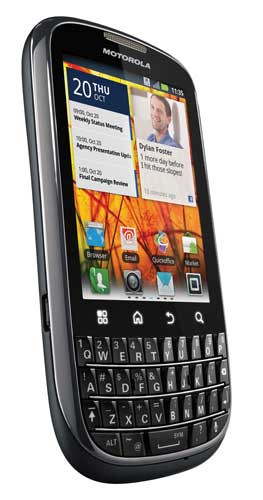 We have seen the Nokia E6-00, Samsung Galaxy Pro and lately the Blackberries with similar form factor, and it's hard to neglect that we have had some immensely successful devices in the past decade with a touchscreen + QWERTY combo. The onset of QWERTY's below the touchscreen is a refreshing change for Android which has primarily seen keyboards sliding out from the side fo the device.
And seeing multiple launches each month only indicates the non-stop work happening at Motorola, leading up to the acquisition by Google. We would look forward to the Pro Plus, if this can make it at a good price point, it could well be a bestseller in this category.
The Motorola Pro+ Promo Video
Notice the sculpted keys?
Motorola Pro+ Specifications
3.1″ Touch Screen / Gorilla Glass / Resolution: 640×480
Android 2.3 (Gingerbread)
1 GHz Processor / 512MB RAM
4GB Internal Memory / MicroSD Card Expansion
3.5mm Audio Jack / FM
5 Megapixel Camera With LED Flash (auto focus)
Adobe Flash Player 10.3
1600 mAh battery
Dimensions: 62 x 119.50 x 11.65 mm
Weight: 113 gms