Even though there is no estimation on when will Reliance finally roll out the much-discussed 4G network named Reliance Jio, there is a lot of interest around the service. A Handful of people have already got their hands on the SIM card from Reliance Jio and teased how good the performance is. Reliance has opened a private beta programme where they are letting their employees especially, try out the service and give a feedback. One longstanding complaint from those who have used the service is that although their phones are 4G compliant, they are unable to use the VoLTE calling that Jio is bringing.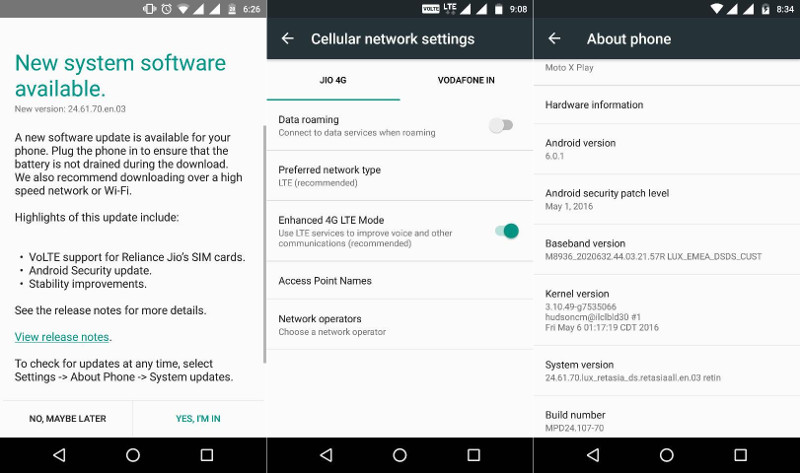 Since there is no fallback in case there is no VoLTE, you would not be able to make a phone call, at least right now. However, Motorola is preparing itself for the impending launch and have released an update, which will bring VoLTE capability to the Motorola Moto X Play. Interesting to note that the Play was the only device that did not have VoLTE connectivity as both Moto X Style and Moto G series comes with VoLTE.
The OTA update is only 19MB in size and also bundles in the security patch update for the month of May. It is not clear when the June Security Patch will be out, but at least for now, you do have VoLTE connectivity. As expected there are some stability improvements that are bundled with the update, so when you get it you should go ahead and apply it, even if you have no plans of using a Reliance Jio SIM on your phone. Once you apply the update, and if you are using Reliance Jio, you will start seeing the VoLTE moniker in the notification shade on top.