Soon after getting myself an iPhone 6 and getting used to the larger 4.7″ screen, the GPS chip on my iPhone went bad. Given 4G didn't work on it either, I decided to upgrade to an iPhone 6 Plus. That meant I moved from a 4" iPhone 5s to a iPhone 6 Plus with 5.5" screen within 2 months.
The biggest reason to like the 6 Plus is the battery life. The low power mode is a farce, it hardly helps, a larger physical battery is what you really need and the 6 Plus gives that. The anxiety of running out of battery, the hesitation to view a video or use GPS on the phone is now somewhat low. I do think there is still some distance to go before we are over the battery anxiety and honestly I don't think Apple has this very high on its priority list either. But coming from an iPhone 5s, I am very happy.
Apart from that I can finally ditch my iPad. Like I once tweeted, Everyone has an iPad. No one uses an iPad. So I gave away my iPad to a friend, where it is now a video player for her 2 yr old daughter. Reading on the 6 Plus is much more soothing, however I am yet to get on reading books on this one (given I have a couple of physical books to complete before moving further).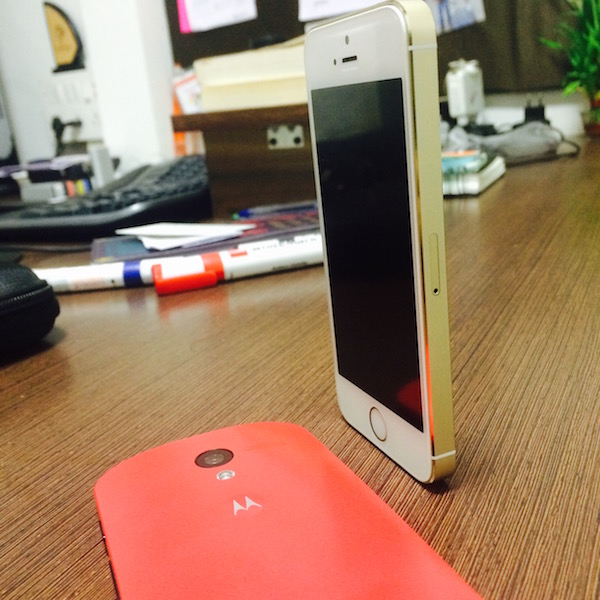 Holding the iPhone 6 Plus with one hand is surely a task. It is painful and I am still adapting to it. I kinda hate the amount of handling the device of this size needs (Apple has a large form factor too, not just display). But the trade offs are worth it. Having battery all day and a large screen to view pictures and videos vs having a very handy phone. Needless to say, I enjoy speaking on my secondary phone the Moto X much more than the iPhone Plus.
I am yet to see the OIS play a role in my day to day photography. Perhaps the difference is a little too less for me to notice right away. With iOS 9.3 Night Shift is a welcome change and I hope given Live Photos would also make it to the 6 Plus with iOS 10. Given that the SE already has it, it would be welcome on other non 3D touch iPhones too.