Heavy, chunky computing devices have evolved into sleek, powerful notebooks today. These devices can do all of what a conventional desktop computer can do. This is one of the reasons why more and more people are replacing their bulky desktop PCs with notebook laptops that they can take on field assignments or on trips. However, the problem with the conventional consumer laptops is that they are large, have unprotected screens and plastic cases, which makes them quite fragile. Any hardware damage represents an increasing cost, which is a 'greater than ever' source of frustration for business and a Blogger alike.
Fortunately, leading computer manufacturers like Panasonic make notebooks that are designed specifically for tough jobs. Panasonic Toughbook Laptops are designed and engineered to withstand much more punishment than a standard consumer product. These devices are built like tanks and are nearly unbreakable. Since data security is becoming an ever-greater concern, most of the semi-rugged and rugged machines from the series now feature fingerprint scanners, SmartCard readers, and removable hard drives. The ruggedness specifications help you figuring out how much abuse a product can take without breaking.
Introducing Toughpad CF-20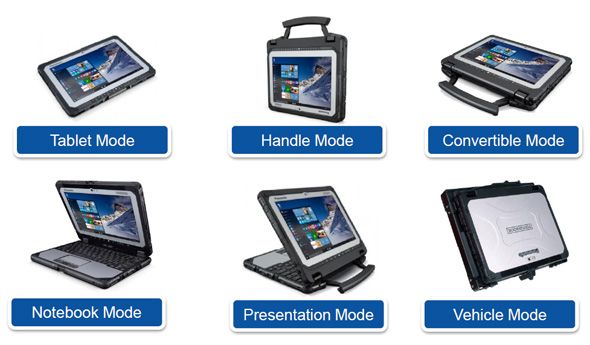 Panasonic has pitched its ToughBook CF-20 as a convertible tablet combined with the flexibility of a tablet and performance of a laptop with a solid build quality. Featuring a display that backs onto a keyboard base and can be attached with a second battery for extend runtime while on the move. The CF-20 is the next generation rugged device for adventure enthusiasts.
Toughpad CF-20 helps you substitute pen and paper with mobile technology. This means work order management, distributed asset management, or fleet logistics is taken care of while you are 'on the go.' Thanks to 'chemically hardened display glass that withstands heavy vibrations, the device will be just fine if you end up dropping it after one-handed operation for a long time.
Changing the preconceived notions of what rugged devices should be like, the device is designed to meet evolving needs of the enterprises and explorers. Offering many customisation options for end users, Toughbook CF-20, is backed by a three-year limited warranty.
For Adventurous Locations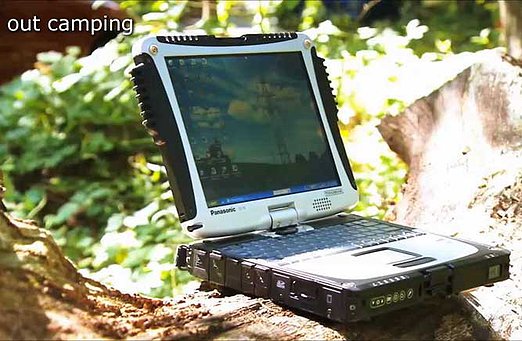 Ruggedness computing and an outdoor-readable display technology go hand-in-hand. If you on an adventure, then you are probably going to use your device on car hoods, fallen logs, the ground, rocks, benches and in other tricky locations. While the CF-20's sunlight-readable display makes, you view the screen in different sunlight settings, a glove enabled touchscreen can help navigate between apps and windows.
With an optional detachable keyboard, the devices allow you to detach the touchscreen to use it as a tablet. The CF-20 can be flipped 180-degrees in 'presentation mode,' taking versatility to a new level.
One device, different industries
The 10.1" screen is compatible with a waterproof stylus, something field engineers, and health care professionals demand. Now, field salesmen can look for purchasing history retail executives can check stock quantities and current inventory, without running back and forth to a central location. Similarly, medical emergency or fire safety personnel can write reports in the field, without having to depend on memory.
It Means Business Too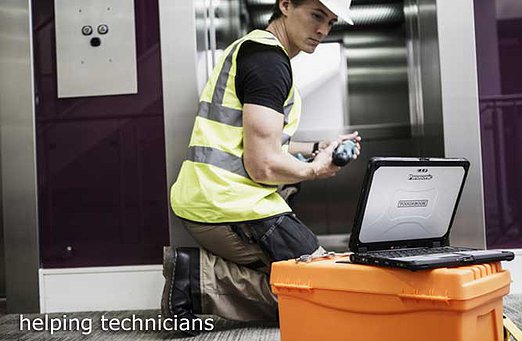 Now, it is possible for businesses to stay connected with their field staff no matter where they go through the Internet, high-definition cameras, GPS capability, Wi-Fi, Bluetooth® and cellular data connectivity.
Now workforce on the go can compute without worrying about losing power; thanks to up to 20-hour hot swappable battery, which also charges incredibly quickly. When inputting or updating real-time information is crucial, this tablet now acts like a laptop after adding in the keyboard.
Armed with 6th Generation Intel Core vPro processor and Windows 10 Pro, some of the device add-ons include a serial port, magstripe reader, GPS, fingerprint readers, 1D/2D capable barcode reader, SmartCard readers and a 4G LTE carrier modem.
Image Sources:
http://www.gpsprecision.com/wp-content/uploads/2016/04/panasonic-toughbook-cf-20.jpg
http://static.wixstatic.com/media/f89684_28ab7fefa85245638d39c5398b766188~mv2.jpg_srz_522_341_85_22_0.50_1.20_0.00_jpg_srz
http://static.wixstatic.com/media/f89684_ec654ae1a0c54be785c915fc7d5a91f3~mv2.jpg_srz_522_341_85_22_0.50_1.20_0.00_jpg_srz