Today, HMD Global announced the Nokia 5.1, Nokia 3.1 and Nokia 2.1 smartphones through a launch event in Russia. The Nokia 5.1 and 3.1 are Android One devices that are promised to receive faster software updates. Like last year's Nokia 2, the Nokia 2.1 smartphone is also a low-priced phone that runs on Android Go Oreo edition phone.
Nokia 5.1, Nokia 3.1 and Nokia 2.1 Specifications and Features
The Nokia 5.1 and Nokia 3.1 sport the new full screen design as they are packed with 18:9 aspect ratio supporting screens. The Nokia 5.1 has a 5.5-inch IPS LCD display that produces Full HD+ resolution of 1080 x 2060 pixels. It is protected by a layer of 2.5D curved glass. The Nokia 3.1 is fitted with a 5.2-inch IPS LCD screen that delivers HD+ resolution of 720 x 1440 pixels.
The MediaTek Helio P18 chipset powers the Nokia 5.1 whereas the MediaTek MT6750 is present under the hood of Nokia 3.1. Both phones can be availed in variants like 32 GB storage + 3 GB of RAM and 16 GB of storage and 2 GB of RAM. The Nokia 5.1 and 3.1 phones respectively feature 2,990mAh and 2,970mAh batteries.
The Nokia 5.1 has a rear-mounted camera of 16-megapixel that is enabled with features like PDAF and dual-tone LED flash. The Nokia 4.1 has a 13-megpaixel rear camera with LED flash. The frontal of both smartphones is fitted with an 84.6-degree wide angle camera.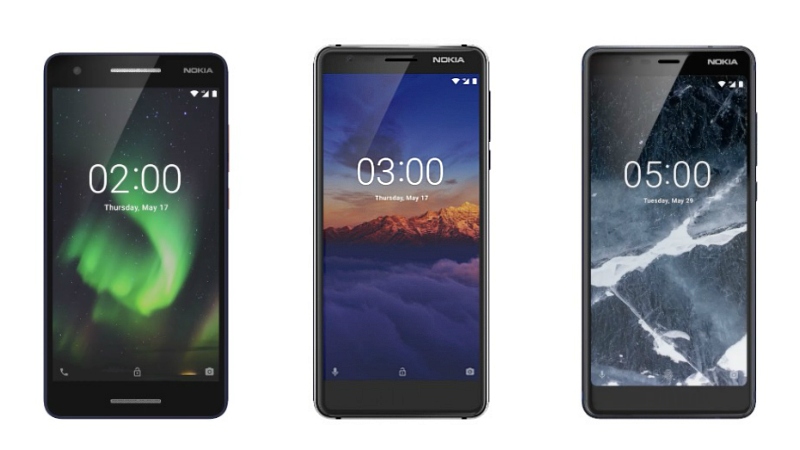 The Nokia 2.1 has a traditional 16:9 aspect ratio screen. It offers HD resolution of 720 x 1280 pixels. It is also blessed dual front-facing speakers. The Nokia 2.1 features a native storage of 8 GB and it is fueled by Snapdragon 425 SoC and 1 GB of RAM. It also features a microSD card slot. It is packed with a massive 4,000mAh battery. For photography, the Nokia 2.1 features an 8-megapixel rear camera and a frontal shooter of 5-megapixel.
The Nokia 5.1 has a 6000-series aluminum body whereas the Nokia 3.1 and Nokia 2.1 has a polycarbonate frame and rear shell. Among these phones, the Nokia 5.1 is the only smartphone that is equipped with a fingerprint scanner.
Nokia 5.1, Nokia 3.1 and Nokia 2.1 Pricing and Availability
None of these smartphones are available for purchase. The Nokia 3.1 is expected to go on sale in the coming month whereas the Nokia 5.1 and 2.1 may become available for buying in July. The pricing of the smartphones is yet to be made official for the Indian market. It is speculated that the Nokia 5.1, Nokia 3.1 and Nokia 2.1 will be respectively priced at Rs. 12,499, Rs. 9,999 and Rs. 6,999.
Following are the colors of the new Nokia phones:
Nokia 5.1 – Coper, Tempered Blue and (a few weeks later) Black
Nokia 3.1 – Blue/Copper, Black/Chrome and White/Iron
Nokia 2.1 – Blue/Copper, Blue/Silver and Gray/Silver