Back in May this year, Nokia announced the Asha 501 – its first feature phone to run the new Asha 1.0 platform. The launch itself was unprecedented. Nokia had invited almost all of the popular bloggers from across the globe to New Delhi – an unusual location for a Nokia product launch. The usual location for a global phone launch has traditionally been Europe for Nokia. If that wasn't all, the phone was unveiled by the man himself – Nokia CEO Stephen Elop. This enough should be an indication towards the fact that this was not just another phone launch for Nokia. The Asha 501 was a phone that was born out of necessity.
At one end of the price spectrum, Nokia had taken a gamble and opted for Windows Phone as their platform of choice for its smartphones range and is still coming to terms with that decision. At the other end, low cost, imported – but branded handsets from China were chipping away into to years of effort by Nokia in emerging markets – and particularly India where while still leading in sheer market share, Nokia was fast losing the coveted position it had in the minds of the people. They had to do something – and the Asha 501 is the first of the results that have come out of that endeavour.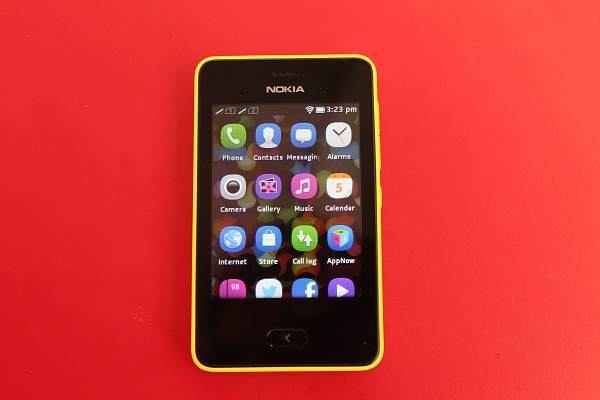 A few weeks after the launch of the phone, I received a curious little package with just the little Asha 501 inside. Now, let me be very brutally honest here. It takes a lot of effort to use a review handset – a low end one at that for a considerable amount of time as your main phone when you are so used to a more powerful, feature-packed handset and have one within arms reach. Still, I did manage to resist the temptation and used the handset for a good two weeks. And here's what I found:
But before we start, lets take a quick look at the features of the phone.
3-inch QVGA display (133 pixel density)
Dual MicroSIM support
Nokia Asha software platform 1.0
64MB RAM, 128MB ROM, 40MB internal storage, 4GB card included
3.15 MP rear camera, QVGA@15fps video recording
Wi-Fi b/g
FM radio with RDS
Bluetooth v3.0
microUSB port, charging
1110 mAh Li-Ion battery
Video Review

<!––nextpage––>
Looks, Design
There is no denying that fact that many heads would turn once you take the Asha 501 from out of your pocket (or handbags). I received the yellow version of the phone – which even though not very flashy, was attractive enough for people to stop by and ask me "What phone is that?" on more than one occasion. The first thing you notice about the Asha 501 is its diminutive size. At a time when all phones are getting bigger, larger displays, this one goes against trend. This is a tiny phone – the same size as that of a BlackBerry Curve 9320 – and can sink into even the smallest of pockets with ease. At times though, some of you might feel that it is too small. The fairer sex from my experience largely loved the design of the phone but were disappointed when the screen was turned on. One particular lady wasn't impressed with the Banana Yellow colour on my review unit. I did inform her about other color options, though. The display resolution on this phone could have been a lot better – although price constraints might have forced Nokia to cut corners here, the screen IS the most important aspect of a phone – and cutting corners here is generally a bad idea. Nokia's market research might have said otherwise, though.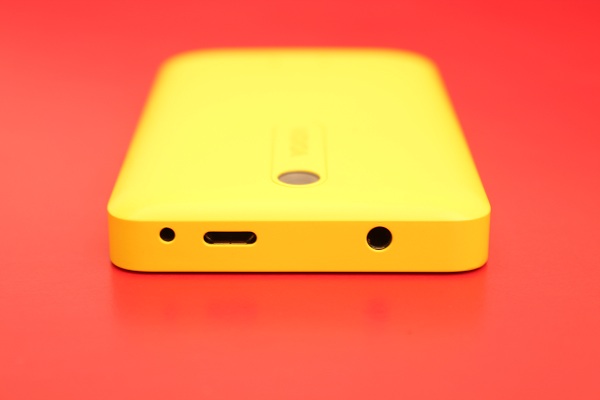 The simplistic design of the Asha 501 means that the phone is largely devoid of any ports/buttons on the left side or the bottom of the phone. All connectivity ports are located at the top – which includes the micro USB port, a 3.5mm jack and a legacy Nokia thin charging connector. The phone does support USB charging as well. The volume rocker buttons as well as the power/wakeup buttons are located on the right side. There is a single "back" button on the front side. This button helps the user navigate back to the menu or to the "Fast Lane" menu (which we will talk about later) at any point during the usage of the phone.
User Interface
Nokia , with the Asha 501 has introduced its new platform – the Asha 1.0. This UI, if you notice carefully derives heavily from Nokia's now dead MeeGo platform – which gave us all a brilliant device called the Nokia N9.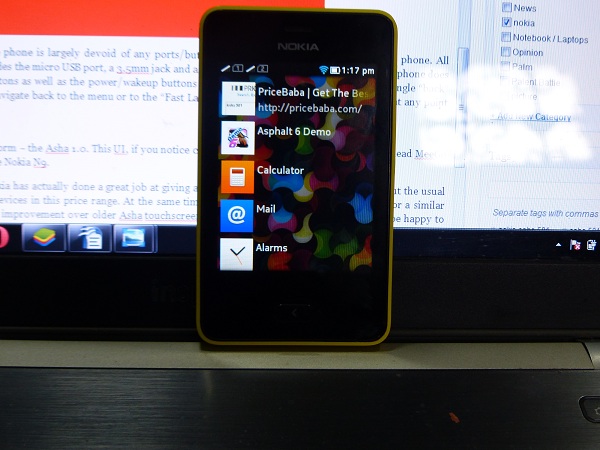 Considering the kind of hardware this phone runs, Nokia has actually done a great job at giving a decently smooth user experience – without the usual lags and slowness that you normally associate with devices in this price range. At the same time, do not expect butter smooth scrolling or a similar swiping experience. It's certainly usable and is a huge improvement over older Asha touchscreen devices . The Symbian fan in you would be happy to notice similar icons and those of you who have used Symbian in the past would not have to go through a steep learning curve to get used to the Asha 1.0 UI.
Fastlane
At the launch event of the Asha 501 back in May, Nokia had endlessly talked about its new UI feature called "The Fastlane". If you are still wondering what is it all about, here's a brief lowdown. Fastlane basically is an application that is perennially running on the Asha 501. What it does is to track whatever activity you have done on the phone in the recent past. If in the midst of something you have to do something else, all you need to do is to press the "back" button, complete that activity and then swipe to the Fastlane menu where you will notice that the last used App would be listed there for you to open and continue using it from where you left it. Note that not all applications and activities would be listed in Fastlane – but most are.
The Asha 501 also gets a swipe down, quick access menu as well as an Android-esque notifications menu. This is pretty neat and is very functional.
<!––nextpage––>
Calls, Messaging and Dual SIM ability
While the Asha 501 was announced in both single and dual SIM variants, it does make sense for you to get the dual SIM version for the simple reason that it is very convenient to use. The Asha 501 supports dual SIM standby which means both the SIM cards will remain active at all times. As expected from a Nokia, the call quality on this phone is excellent. I was able to hear the other part speak – even in the loudest of environments without having to resort to unusual tactics.
Messaging on this phone is excellent as well – and that brings me to the keyboard on this phone. By default, the Asha 501's QWERTY keyboard is enabled and I should add that this is simply one of the best on screen QWERTY keyboards I have used. This in spite of the fact that the Asha 501 has a tiny screen. The keyboard is surprisingly accurate and supports prediction as well. Those of you who still prefer the good ol multitap keypad, you have that option as well. Overall, Nokia has done a great job with the keyboard on the Asha 501. It is by far the best on any phone in its price range.
Camera, Multimedia
The Asha 501 gets a fixed focus, 3.15 MP camera that adorns the back of the phone. While the camera specifications look very ordinary, the phone does manage to take some decent pictures. In fact, for a sub 5k phone, the camera is simply impressive. You cannot expect this good image quality from cheap Android handsets that are available in this price range. The camera interface is neat and simple with various option including white balance, self-timer, live effects and shutter sound. Users can capture images in 3MP, 2MP, 1MP and VGA resolution. Overall, I was pretty happy with the image quality that the Asha 501 delivered. The Asha 501 is also capable of capturing videos – albeit at a very pedestrian QVGA resolution at 15fps. I would ideally ask you to steer clear of the video camera – unless it is REALLY important for you to capture a video and there is nothing else around.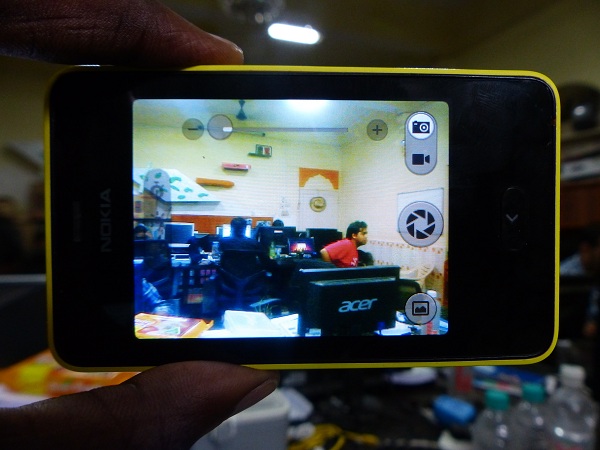 Connectivity and Data
The Nokia Asha 501 happens to be a dual band (900 / 1800) GSM networks and doesn't support 3G. Thankfully, there is Wi-Fi (although we would have preferred that they should have given it the 3G and yank off the Wi-Fi capability), Bluetooth, with the ability to "slam" content to other compatible phones is present as well and so is a micro USB option for data transfer. The phone has a memory card slot and Nokia provides a complimentary 4GB card with the phone itself at purchase. Then of course, there is the 3.5 mm jack for attaching an earphone of your choice. That brings me to the music playback capability of the phone which right from the outset, if I may add is great. There is no graphic equalizer option though – which is sad.
<!––nextpage––>
Applications
The Asha 501 comes with a bunch of preinstalled applications – as well as an applications store for downloading new apps. Preinstalled applications include Twitter, Facebook and a bunch of games. The applications store- although not as huge or varied as the Android or iOS app store – has enough number of applications available. WhatsApp too is planning to launch a version for the Asha 1.0 platfrom soon. Line and WeChat are alreasy available for download for the device and so is Opera Mini.
Battery Life
The battery on the Asha 501 is a Nokia BL4U which is rated at 1110 mAH. Over the course of the past two weeks this battery has given me excellent performance with the phone lasting me a good two days on a full charge. This is after nominal usage though which included a few phone calls, browisng over wifi and (painfully slow) browsing over EDGE for brief periods. I had the music player on as well for quite some time and once, I even forgot to hit the pause button with the earphones plugged in overnight – only to find the phone still playing the track the next day after 7 odd hours. The battery signal showed a drop of just two bars! Impressive! This is one backup handset that you should always carry around! Highly recommended!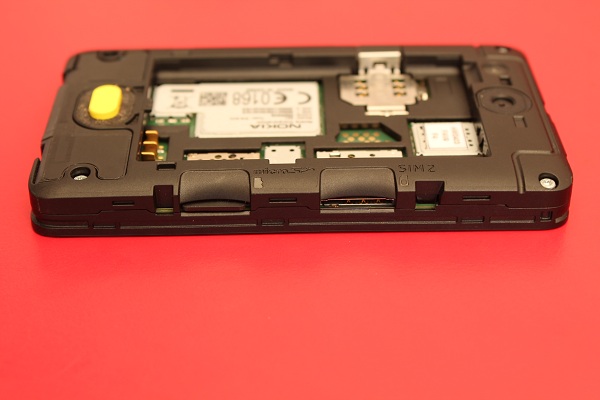 Conclusion
The Asha 501 is a great handset – but stuck in a very peculiar price spot. It currently retails for around 5000 Rupees and even lesser as I type this. The average buyer looking for a phone in this price bracket might end up in a huge dilemma. For the same price or a couple of thousand Rupees more, he can get a smartphone running Android from any of those low cost Indian brands. What then should the customer opt for?
With the Asha 501 what he will get are uncompromising Nokia quality and service. He also gets a bunch of features that actually work as advertised. Case in point being the camera – which does an impressive job for a fixed focus unit. On the other hand, if he opts for a low cost Android phone, he will get a smartphone, true! (and WhatsApp!) with very shabby user experience thanks to low RAM, low internal memory and an overall sluggishness owing to a generation old hardware. The camera on these phones even though advertised as 5 megapixel units or more are often very poor in quality and takes far worse pictures than the Asha 501.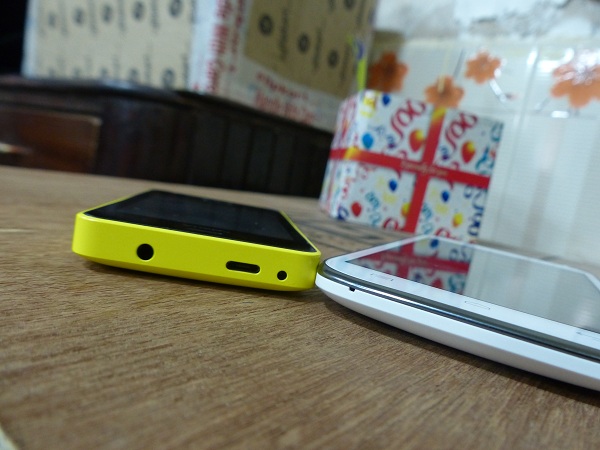 At the end of the day, it all boils down to personal preferences. Are you ready to compromise a smoother user experience, better camera, far better voice quality and a great on-screen keyboard for a smartphone that can do everything the Asha 501 can – and even more albeit in a very "not so classy" way? If yes, don't even consider the Asha 501. It's not for you. The only other reason I would consider a low end Android over this is if I was really, desperately short on cash and I NEED the smartphone capabilities.
On the other hand, If I were a basic user, on the lookout for a phone that does all my basic things in a way that it wont frustrate the hell out of me, my obvious choice would be the Asha 501. I hope all is clear now? 🙂
I leave you with images taken using the camera on the Asha 501!