Nokia has added two new devices to their Lumia range of smartphones. The Lumia 925, Nokia's new flagship device in India and Lumia 625, the largest Lumia smartphone. Lumia 925, announced earlier in May this year carries an aluminium body. Lumia 625, will be the largest Lumia device with a 4.7 inch LCD screen.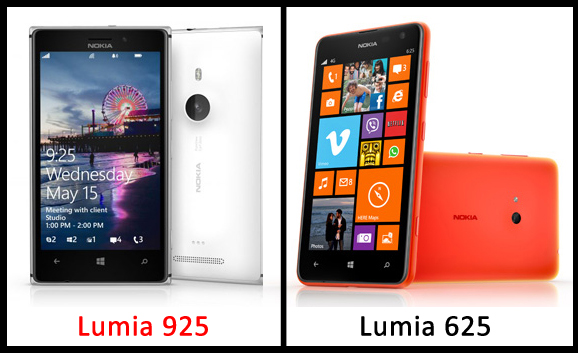 The Lumia 925 is powered by 1.5 GHz dual-core processor. It is supported by 1 GB of RAM and 16 GB of internal storage. The display size is the same as that of the Lumia 920, i.e. 4.5 inch screen, but Nokia has decided to go with AMOLED screen for their new flagship device instead of the LCD used in the former. The display resolution remains the same at 1280 x 720 pixels. The Lumia 925 measures just 8.5 mm thick and weighs 139 grams. Quite a difference when compared to the 185 grams and 10.7 mm thick Lumia 920.
It also houses a 8 MP pure view camera with dual-LED flash and can capture videos at full HD (1080p) as well. It also has a 1.3 MP front facing camera that can capture videos at 720p. It also carries the Optical image stabilization from its older sibling.
The Lumia 625 is the largest smartphone with a 4.7 inch LCD screen with a resolution of 480 x 800 pixels. It is powered by a 1.2 GHz dual-core processor, with 512 MB RAM and 8GB of internal storage with micro SD card support up to 64 GB.
It has a 5 MP camera with LED flash, capable of recording videos at full HD. The front camera is VGA.
The Lumia 625 seems like a toned down version of Lumia 720 only with a slight increase in processor speed and 0.4 inch increase in display size.
Nokia has offered a lot of freebies for the buyers of Lumia 625. It will be preloaded with YourMovies, that will download movies to their device with a library of 3000 movies from Hollywood, Bollywood and other regional genres. Within three months of buying the device, users also get10 GB of free date across Wi-Fi at McDonalds, Café Coffee Day, and Subway outlets.
Both the Lumia 625 and the Lumia 925 will be pre-loaded with the newly launched Flipkart eBooks app. Users can get free titles from well-known authors like Chetan Bhagat, Shobha De, and Khushwant Singh, etc.
Both devices run Windows Phone 8 version and Microsoft are expected to dole out Windows 8 Amber update soon.
The Nokia Lumia 925 is priced at Rs. 33499/- while the Nokia Lumia 625 is priced at Rs. 19,999/-
Nokia has also announced a tie-up with Coloud, launching their range of headphones in India. However, they have not revealed the prices for the same.